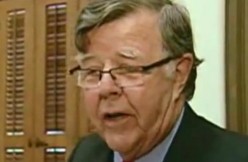 Baltimore is getting a new Solicitor General. That's because their old one hired an alleged neo-Nazi. George A. Nilson is out of a job, and Deputy Solicitor David Ralph will replace him in an interim capacity, The Baltimore Sun reports.
"The Mayor [Stephanie Rawlings-Blake] thanks Mr. Nilson for his dedicated service to the City of Baltimore and wishes him well in his future endeavor," an official statement said on Friday.
It's all because he hired the wrong person, lawyer Glen Keith Allen, to defend the Baltimore Police Department in a wrongful arrest lawsuit filed by a black man. The Southern Poverty Law Center broke the news on Thursday that the 65-year-old used to pay dues to the National Alliance, subscribing to publications as well as buying a ticket to a Holocaust denial conference and book on the same subject as recently as 2007.
"We believe that no multi-racial society can be a truly healthy society, and no government which is not wholly responsible to a single racial entity can be a good government," they wrote on their website. One of the most popular books from their publishing arm, The Turner Diaries, inspired Oklahoma City bomber Timothy McVeigh.
There are so many reasons why the optics on this are bad. Baltimore has been struggling with criticism of law enforcement and institutions for a good long while, and all of those fights are racially charged. There's the fallout from the death of Freddie Gray, a black man. There's an attempt to get State's Attorney Marilyn Mosby disbarred over her handling of that case. There's the recent Justice Department report that showed local law enforcement not only suffered from racial biases, but barely tried to investigate sex crimes.
And in the midst of all this, it comes out that an alleged neo-Nazi is defending police in a racially charged lawsuit. Allen was fired from Baltimore's Litigation and Claims Practice Group on Thursday. He'd been working there on a contractor basis since February.
–
Follow Alberto Luperon on Twitter (@Alberto Luperon)
Have a tip we should know? [email protected]