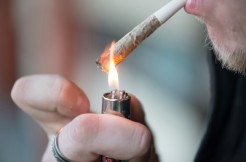 A coalition that includes Napster's founder says it's getting a pro-marijuana measure put on the Nov. 8 ballot in California. If successful, recreational use of pot would be legal in the state.
The coalition said on Tuesday it collected 600,000 signatures to qualify for the ballot, The Los Angeles Times reports. It needed at least 365,880 to be successful.
This isn't a random initiative. It's being backed by the state's Democratic Lt. Gov. Gavin Newsom.
"This November, California voters will finally have the opportunity to pass smart marijuana policy that is built on the best practices of other states, includes the strictest child protections in the nation and pays for itself while raising billions for the state," Newsom said in a statement, according to the LA Times.
The signatures were turned in Wednesday, but election officials still have to sign off on the ballot measure, The Times reports. If the measure is passed in November, California would become the fifth state nationwide to okay recreational use of marijuana.
The proposal would allow adults 21 and older to legally possess or transport up to an ounce of marijuana for recreational use. There'd be 15 percent retail tax on purchases. Public use and use while driving would remain illegal. People can also grow as many as six plants.
Several groups are opposing the new measure, including Citizens Against Legalizing Marijuana, and the California Police Chiefs Association. A similar ballot measure failed in 2010, but only 53 percent of voters shot it down.
"This is bad for our communities," Ventura Police Chief Ken Corney told the LA Times. He's president of the CA police chiefs association. "This is bad for our youth and it's a broad commercialization. A for-profit, money-making model."
Newsom endorsed the measure in November. Other supporters include Napster founder and former Facebook president Sean Parker, who donated over $1 million toward the effort, according to The Times. He was played by actor/singer Justin Timberlake in the 2010 film The Social Network.
[image via Pe3k / Shutterstock.com]
–
Follow Alberto Luperon on Twitter (@Alberto Luperon)
Have a tip we should know? [email protected]