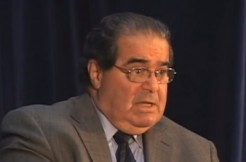 On October 6, George Mason University is holding the opening ceremony for its newly renamed Antonin Scalia Law School. That's going to get met by protesters. Opponents are rallying against the name change, and the funds behind it.
"At 10:15AM, over 40 students, faculty, and tax-paying community members will gather outside in protest," said UnKnoch My Campus in a statement sent to LawNewz.com. "Speakers include members of GMU's student body, faculty, and Virginia State Delegate Marcus Simon."
This has a bit of backstory. Supreme Court Justice Antonin Scalia died in February from natural causes. GMU announced they'd name their law school after him after they got a total of $30 million in donations from an anonymous donor and billionaire Charlie Koch. That name should be familiar. The CEO of Koch Industries is a major contributor to conservative politicians and institutions.
Now that debate has spread to the university. Some GMU faculty have stepped forward against this, saying the $30 million comes with too many strings attached. But some professors at the law school itself say those people are just butting in.
University spokesman Michael Sandler addressed the protest in a statement to LawNewz.com:
We honor freedom of thought and expression at George Mason University. We know that there are many perspectives about the newly named law school, and we respect everyone's right to voice their opinion. Ultimately, we hope that people see the value of this gift, which will support three new scholarship programs and help hundreds of students from a diverse range of backgrounds attend law school and earn a degree. For those reasons, we see this as an important moment for the university and a cause for celebration.
[Screengrab via University of California]
Update – September 30, 2:11 p.m.: Updated with a statement from a university spokesman.
–
Follow Alberto Luperon on Twitter (@Alberto Luperon)
Have a tip we should know? [email protected]