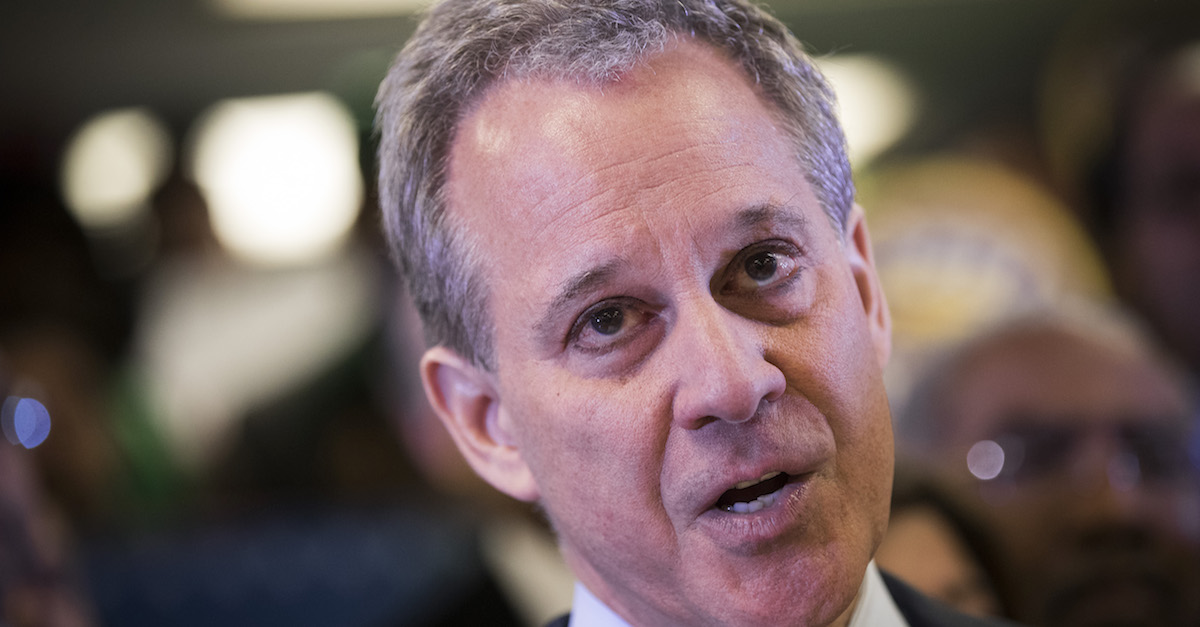 With the swift downfall of New York State Attorney General Eric Schneiderman amid accusations that he abused four women, questions are now being asked about how things might change at his old office regarding cooperation with Special Counsel Robert Mueller's Russia probe and more.
The answer? Not at all.
It's been well-documented that Schneiderman, a Democrat, has in the past 1) conducted an investigation of Russian oligarchs and mobsters that allegedly resulted in a sealed indictment 2) brought a fraud case against Trump University that ended with a $25 million settlement 3) cooperated with Mueller on the probe of former Trump campaign chairman Paul Manafort and 4) promised to do everything in his power to serve as a check against Trump in the event that Trump fired Mueller.
In sum, "more than 100 legal or administrative actions" were taken against the Trump administration and congressional Republicans under Schneiderman's watch, according to popular blog Talking Points Memo (TPM).
With this openly oppositional anti-Trump attack dog now out of the picture, Donald Trump Jr. and many others on the political right cheered Schneiderman's downfall, even sharing a 2013 Trump tweet predicting it.
Whether this cheerfest was simply over the arrival of a new Democrat example of stunning hypocrisy (We can see "But what about Eric Schneiderman" being typed now) or the hopes of a reprieve for President Trump (or both), Schneiderman's departure doesn't mean Trump has any less heat on him from New York prosecutors. That's true in the Mueller probe context or otherwise.
According to TPM, the words of Solicitor General and Acting Attorney General Barbara Underwood and the words of legal experts the outlet spoke with indicate that the status quo will remain.
Underwood was clear that work at the office "continues without interruption."
Former director of the National State Attorney General Program at Columbia Law School James Tierney said there is "no legal difference" now that Schneiderman is gone because this is about an institution not an individual.
"You have to stop making it about [Schneiderman]," he said. "These are institutions. They had a problem with New York law so they went to the legislature with it."
Fordham Law professor Jed Shugerman essentially said the same thing, saying Underwood and Schneiderman were likely both involved in Mueller cooperation anyway.
"If and when Schneiderman was coordinating with Mueller, it would be likely that he was also bringing Underwood into those conversations," he said.
Provided that Democrats maintain control of the attorney general's office, you can expect nothing to change. Even if Republicans were to take control, that doesn't necessarily mean Trump can do a happy dance either.
All you need to do is look at what Republicans Robert Mueller, Deputy Attorney General Rod Rosenstein and U.S. Attorney Robert Khuzami (just to name a few) are doing with the Russia and Michael Cohen investigations to see that.
[Image via Drew Angerer/Getty Images]
Have a tip we should know? [email protected]