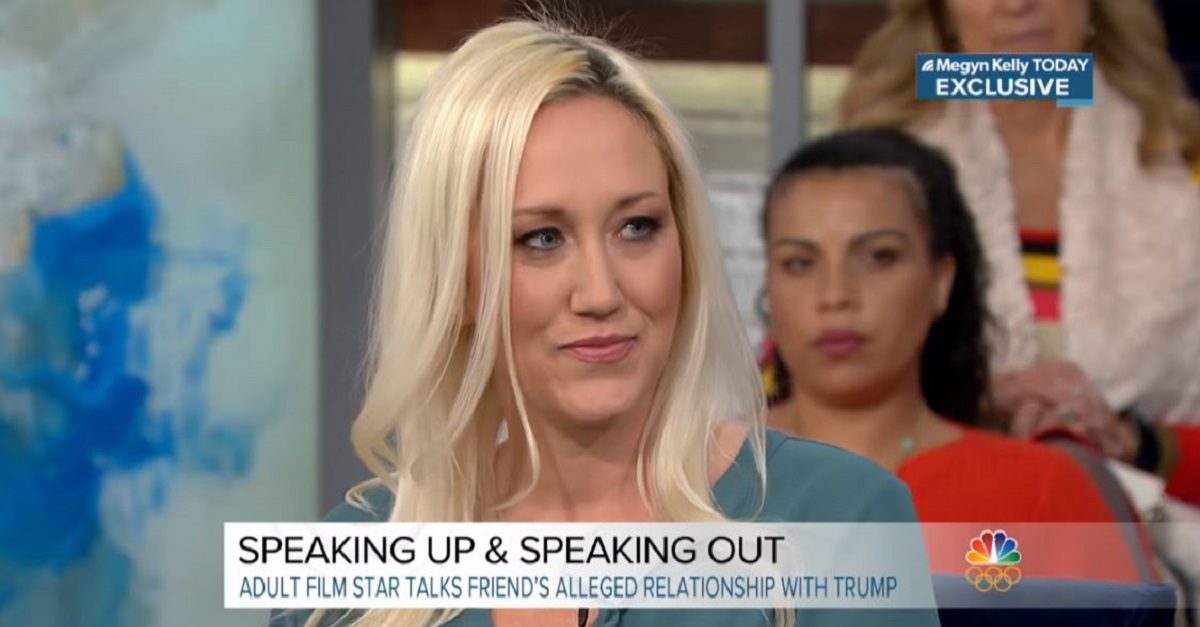 Stormy Daniels is currently in the middle of legal battles with President Donald Trump and his lawyer Michael Cohen, but she isn't the only adult film actress who has considered taking action against Cohen. Adult film start Alana Evans claims that Daniels told her about her alleged sexual encounter with Trump, and that she's thought about suing Michael Cohen for his response to her story. If she does, however, she probably won't be hiring Michael Avenatti.
Evans said on the Bernie & Sid In the Morning radio show on WABC  770AM that she considered suing Cohen for saying she lied when she claimed that Daniels told her about her alleged encounter with Trump in 2006. In an article in The Independent, Cohen's lawyer David Schwartz said of the alleged Daniels/Trump affair, "This is recycled old fake news that has no validity whatsoever and everyone named, including Mr Cohen vehemently denies this."
Evans took this as an attack on her credibility, and considered her legal options.
"He responded to the Independent UK telling them that my statement specifically was fake news," Evans said.
She said she hired a lawyer, but before making a decision about whether or not to sue, her lawyer reached out to Avenatti to see if she could be of use in Daniels' case. According to Evans, Avenatti wasn't very receptive, to say the least.
"Avenatti was incredibly rude to my lawyer, said to him he didn't understand why he personally would feel that I was important in this situation, even though I'm the only one who can actually corroborate the fact that this did happen in Tahoe, because I was there," she said.
Listen to audio of Evans' radio appearance here:
Evans said Avenatti accused her of only being out for attention, which she and her lawyer found shocking, especially given the amount of time Avenatti has spent on television discussing the case.
"For him of all people to accuse me of wanting attention in this situation was incredibly insulting," Evans said.
Law&Crime reached out to Avenatti for a response to this, but he has not answered.
Evans said that despite there being pressure on her to file a lawsuit, she's been hesitant because that would mean revealing her real name.
"My identity will be shared with the world and my family will be put on blast," she said, saying she's not sure if she wants to do that. Still, it appears that the option is not off the table.
[Image via NBC screengrab]
Have a tip we should know? [email protected]