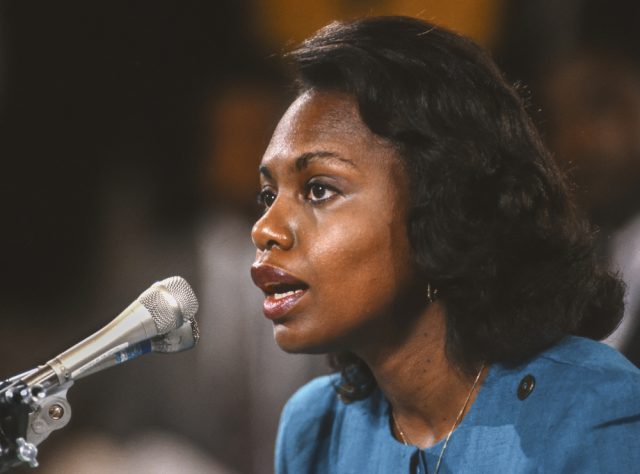 Anita Hill told a room full of entertainment industry professionals that her 1991 testimony about Clarence Thomas and the flood of sexual harassment allegations surfacing now are part of "an arc that had been bending toward justice."
Hill and National Women's Law Center President Fatima Goss Graves spoke to Hollywood actors and executives Friday about how to parlay the momentum generated by the Harvey Weinstein revelations into lasting social change.
Actresses Alyssa Milano and Frances Fisher and documentarian Kirby Dick were among the more than 100 guests who packed the theater at United Talent Agency for the discussion.
"It is because of Anita Hill that we can say, 'This happened to me,'" Milano said. "Today we want women everywhere to know we are listening and the days of silence are over."
Hill, who brought the concept of sexual harassment to national consciousness in 1991 when she testified during Thomas' Supreme Court confirmation hearings, said this "huge moment" of outspokenness and awareness needs legal and institutional follow-through to have a lasting impact.
"In many ways, it's unprecedented," she said, "but it needs sustained energy."
A key change now, Graves said, is that accusers are believed, rather than attacked and belittled the way Hill was in 1991.
"For the first time, when women told their stories, they weren't immediately dismissed, disregarded, ignored and doubted and shamed," she said. "That brief window of not experiencing shame for coming forward, that made more women come forward."
Hill said that after her 1991 testimony, she received scores of invitations to speak about sexual harassment and she thought she might spend a couple of years discussing the issue.
"Two years came and went, and we weren't done," she said.
A professor of policy, law and women's studies at Brandeis University, Hill has devoted her career to fostering civil rights and social change, working steadily in hopes of a significant shift like this.
"I imagined this day would come — not from the point of view of 1991, but from the point of view of all of the things that have developed over the years to enable this day to come," she told The Associated Press earlier Friday. "I include in that the surge of complaints that were filed after 1991, and as importantly, the stories people started to tell their friends and their loved ones about their own experiences, whereas a generation of us came into the workplace never having heard those stories… So I'm not entirely surprised that we got to this moment. I am impressed with the velocity of it."
Graves said that after two months of renewed attention on sexual harassment, people are already asking her when it will end, which is why Hill supports the ongoing work of the National Women's Law Center.
"Because this is not a moment," Hill said. "This is a period where we are going to have to continue and put into place some things to make sure we never go back and relive this again."
The center launched a new legal network for gender equity in October, just before the Weinstein news came out. About 70 attorneys initially agreed to take on sex discrimination cases, Graves said. Now more than 200 attorneys belong to the network, and its intake of sexual harassment cases has quadrupled.
She said sexual harassment is a reflection of women's position in culture and society.
"This issue of harassment and violence is deeply intertwined with women's equality," Graves said, adding that low-wage workers and women of color are among the most maligned and vulnerable.
Hill said the ouster of so many powerful men accused of predatory behavior helps dispel myths about who is a harasser. It might be the morning newscaster or beloved actor.
"It's not just the monsters," she said. "It's people we otherwise admire, people we give awards to, people we vote into office and people who sometimes many of us mourn the loss of when they're held accountable. This is a moment where we are going to have to deal with all of those things."
Despite Thomas' confirmation, Hill said she never gave up hope.
"I never believed 1991 was the end, and I was going to make sure in my life that I never saw that as the defining moment for me or for this issue," she said. "That's how I lived with it, and that's how I've seen it for the last 26 years. And that's how I see this moment now: I'm fortunate to be alive to witness it."
As for whether Republicans should ask Thomas to resign in light of Hill's allegations, as was suggested in a Washington Post op-ed this week, she suggests a broader perspective.
"I see a kind of resistance even acknowledging that this is a significant detriment to leadership in this country. And that's why I focus on the fact of not just what would Clarence Thomas do, but what are the leaders going to do in response to evidence of misconduct? How are they going to lead on this issue?" she told the AP. "I think it's a good idea, but I don't think it should begin and end with Clarence Thomas. I think the leadership on both sides of the aisle needs to step up today and show women in the world that equality does matter."
[image via Shutterstock.com]
Have a tip we should know? [email protected]