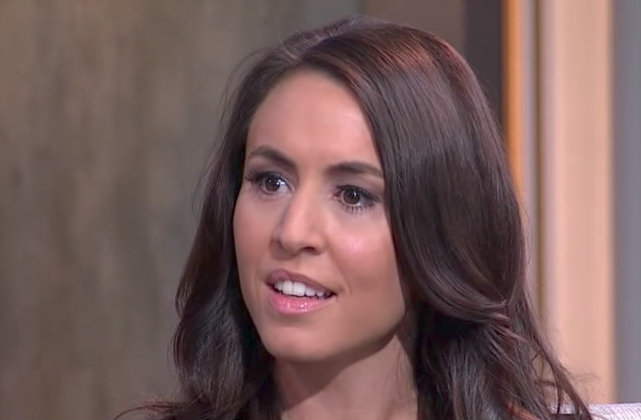 Former Fox News host Andrea Tantaros sued the network and president Bill Shine in a Manhattan federal court on Monday for allegedly spying on her, hacking her personal electronic devices, and harassing her online via proxy social media accounts.
New lawsuit from @AndreaTantaros accuses Fox News of "illegal electronic surveillance and computer hacking" pic.twitter.com/dpJLMG8Y4A

— Tom Kludt (@TomKludt) April 24, 2017
From the lawsuit:
As demonstrated below with accompanying exhibits, the Defendants in this case subjected Ms. Tantaros to illegal electronic surveillance and computer hacking, and used that information (including, on information and belief, privileged attorney-client communications) to intimidate, terroize, and crush her career through an endless stream of lewd, offensive, and career-damaging social media posts, blog entries and commentary and high-profile "fake" media sites which Fox News (or its social influence contractors) owned or controlled.
Other defendants include former Fox News CEO Roger Ailes, and public relations executive Irena Briganti.
We reached out to Fox News for comment. Their outside counsel Dechert, LLP issued the following statement:
Fox News and its executives flatly deny that they conducted any electronic surveillance of Ms. Tantaros. They have no knowledge of the anonymous or pseudonymous tweets described in her complaint. This lawsuit is a flimsy pretext to keep Ms. Tantaros and her sexual harassment claims in the public eye after the State Supreme Court directed her to bring them in arbitration.
Tantaros sued in 2016 claiming Ailes sexually harassed her. Attorneys denied the allegation, which was filed in a New York state court. They said she couldn't even sue under the terms of her contract. Instead, she was supposed to handle everything through a private arbitration agreement.
"Tantaros is not a victim; she is an opportunist," they wrote. The network's attorneys stated:
Tantaros's unverified complaint of August 22 in this Court bears all the hallmarks of the "wannabe": she claims now that she too was victimized by Roger Ailes, when, in fact, contrary to her pleading, she never complained of any such conduct in the course of an investigation months ago.
A New York Supreme Court judge agreed with Fox in February, and ruled that the case should get moved to arbitration. Her attorney quickly appealed.
She also sued Fox news personality Nomiki Konst and Briganti in April. Konst wrote a tweet saying Tantaros physically attacked her. Tantaros not only rebutted this, but accused Briganti of encouraging the tweet. Briganti released a statement denying that claim.
Updated – April 24, 3:28 p.m.: We added more supplementary information regarding Tantaros's August 2016 lawsuit.
4:13 p.m.: Added a statement from Fox News' outside counsel, and added more supplemented information regarding the 2016 lawsuit.
[Screengrab via ABC]  
Have a tip we should know? [email protected]