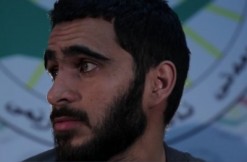 Mohamad Jamal Khweis, a Virginia man charged with joining ISIS, is now back home. He faces a count of providing and conspiring to provide material support to the terrorist organization. This felony carries a possible 20-year prison sentence.
A Justice Department statement said he joined ISIS after leaving the U.S. for Syria in December 2015. Khweis, 26, allegedly admitted he even offered to do suicide bomb duty. But his time overseas apparently didn't amount to much else besides training and staying in at least one safe house.
He quit ISIS because it was difficult. In a talk with Kurdistan 24, an Iraqi news station, he said the city of Mosul, Iraq turned him off from his purpose.
"I stayed there about a mouth, and I found it very, very hard to live there," he said. "I decided to return home [the United States]." He claimed to have escaped with some help.
The Justice Department said Kurdish Peshmerga military forces "detained" him in northern Iraq on March 14. Khweis said he turned himself in.
"I wanted to go to the Kurds' side because I know that they are good with the Americans," he said. "And I decided to make my journey to go and meet with the Kurds. And when I met with the Kurds, they treated me very well. And I am happy I made that decision."
He faces his first hearing on Thursday afternoon at a federal courthouse in Alexandria, Virginia. You can read the full affidavit here.
–
Follow Alberto Luperon on Twitter (@Alberto Luperon)
Have a tip we should know? [email protected]