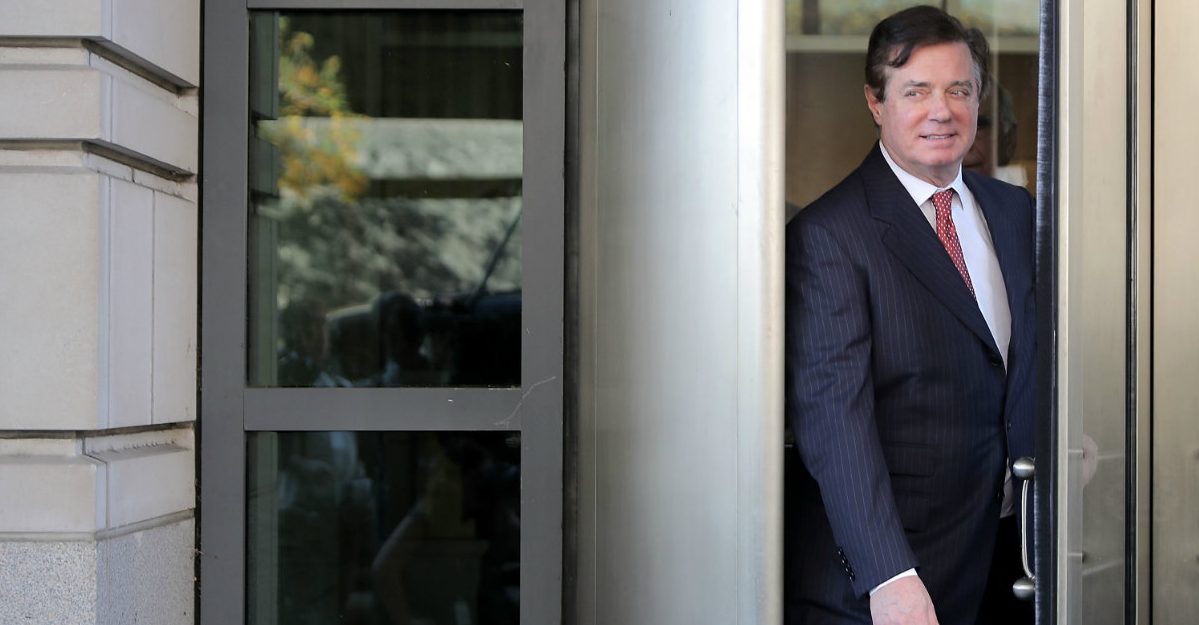 Paul Manafort's defense team took several parting shots at the government on Wednesday afternoon. While attorney Richard Westling mostly stuck to issues surrounding bank loans, Kevin Downing took a final opportunity to mercilessly tear into the prosecution's most controversial witness, Manafort's former right-hand man, Rick Gates.
Starting at precisely 2:17 p.m., Manafort was cast as the victim in a degenerate cheater's longstanding scheme to embezzle. Gates, Downing claimed, had signature authority on most of Manafort's foreign accounts and all the troubles flowed from there.
"This is somebody Mr. Manafort trusted," Downing said. Gates had all the keys; Gates had all the access; Gates was essentially behind everything–so the argument went. "How foolish [Manafort] must feel."
The attacks on Gates only increased from there. Downing remarked upon Gates' appearance, chastising him for, "trying to look all clean-shaven."
Then Downing got to the substance. He said, "On the first question, out of the box, [Gates] fell apart." This was a reference to Gates' frequent missteps during cross-examination. At times contradictory; at times seemingly confused; Gates blamed failures of memory and repeatedly had trouble answering the defense's questions–particularly on issues of dollar amounts and alleged embezzlement.
Downing's direct entreaties to the jury were, at times, a bit colloquial.
The defense attorney asked, "Do you guys remember how many times I had to ask him [about the embezzling]?" The various illicit liaisons of Gates also made a brief return. After rattling off the adultery, lavish spending habits and "an apartment in London," Downing said, "That's what the secret life was all about."
At another point, Downing noted, "He couldn't even get his story straight with you," another reference to Gates' testimony on cross-examination. Referencing Gates' repeat claims that he received massive bonuses from Manafort–claims which were eventually walked back–Downing said, "He had the nerve [to lie about those bonuses] to you. That was some kind of magic word for him."
Downing also (and again) raised the specter of Gates potentially being coached in his answers. He said, "The government didn't even have to ask some of the questions," of Gates–suggesting his responses were canned and rehearsed. Downing continued, "He was flawless on direct examination."
The government's reliance on Gates' testimony was a massive blow to their case, Downing argued. He said, "The government, so desperate to make a case against Paul Manafort, made a deal with Rick Gates." The defense attorney left that implication lingering in the air for a bit before finishing up his attacks on Gates' credibility.
Why exactly was he spending so much time rehashing his previous attempts to tearing down Gates so late in the trial? Downing made it clear. He noted that Gates was the government's only source for the claim that Manafort had explicitly engaged in "discussions" about conspiring to illegally violate foreign bank account disclosure requirements mandated by both the Internal Revenue Service and the Financial Crimes Enforcement Network.
Since Gates, an admitted liar and thief, was all the government had on that point, Downing all-but demanded, "You can"t believe him."
[image via Chip Somodevilla/Getty Images]
Follow Colin Kalmbacher on Twitter: @colinkalmbacher
Have a tip we should know? [email protected]