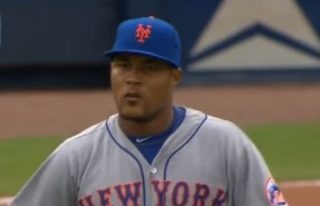 New York Mets pitcher Jeurys Familia was arrested on a simple assault charge in New Jersey on Monday, under suspicion of domestic violence. The complaint, obtained by The Record, alleges that the all-star closer "caused bodily injury" resulting in "a scratch to the chest and a bruise to the right cheek of the victim."
The complaint, filed in Fort Lee Municipal Court, says a police officer who responded to the scene found probable cause that domestic violence had taken place, although the copy obtained by the Record was redacted to protect the victim's identity. Familia is listed as Jeurys F Mojica in the court filing. Bail was set at $1,500.
In a statement issued on Tuesday, the Mets organization said, "The matter was brought to our attention and we are monitoring the situation."
This past season, the Mets signed Jose Reyes, who had served a suspension for domestic violence, stemming from allegations that on Oct. 31 2015, exactly one year before Familia's alleged actions, he assaulted his wife at a hotel in Hawaii. Criminal charges against Reyes were dropped when his wife refused to cooperate with prosecutors.
[Image via screengrab]
Have a tip we should know? [email protected]