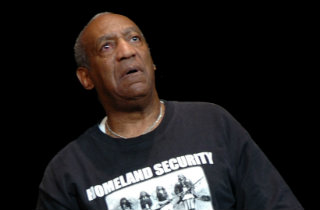 Bill Cosby was back in court on Tuesday for the first half of a two day preliminary hearing in his criminal sexual assault case in Montgomery County, Pennsylvania. While the hearing will cover multiple issues, the main event of day one was an issue previously argued in February: That Cosby's statements in a deposition, where he spoke of procuring Quaalude pills (a tranquilizer no longer available in the U.S.) to have sex with women, are not admissible. Cosby claims to have been under the impression that he had some kind of immunity from prosecution. Cosby also filed a written motion to that effect on Monday.
Cosby and his attorneys have long claimed that Cosby only opened up to the degree he did because then-Montgomery County District Attorney Bruce Castor provided a personal assurance that it wouldn't be used against him criminally. According to the Philadelphia Inquirer, Cosby lawyer Brian McMonagle, argued Tuesday that the current district attorney had to live up to Castor's word. "You give your word, you've got to keep it," he said. "This case involves a situation where somebody else gave their word . . . and now [current District Attorney Kevin R.] Steele doesn't like this promise."
Whether or not that's legally binding is another matter, with Assistant District Attorney M. Stewart Ryan telling the court that "The problem just is Mr. Castor offered accounts that were inconsistent with his prior accounts." The prosecution is insistent that there was no such agreement and harped on how "[Castor] spent a great deal of time, attempting to assassinate this case."
After the arguments with regards to the deposition being admissible, the hearing went into recess for the rest of the afternoon barring further notice.
Judge Steven T. O'Neill rejected a similar argument from the Cosby side earlier this year. At least in part, his ruling was based on the idea that Cosby might have agreed to testify regardless. O'Neill cited the fact that juries in civil trials are allowed to make an adverse inference from the defendant invoking his or her Fifth Amendment rights against self-incrimination. Ergo, the idea is that someone in that situation may choose to testify anyway.
[Photo: Shutterstock]
Have a tip we should know? [email protected]