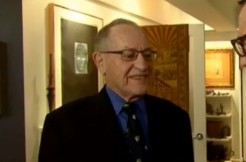 Alan Dershowitz is pretty ambivalent about representing O.J. Simpson in his infamous murder trial.
"It was a highly publicized trial that established no real important legal principles," the former lawyer and professor told Business Insider.
Plus, he was less than lukewarm about his colleagues. Dershowitz and a bunch of other lawyers—including Robert Kardashian and Johnnie Cochran—defended Simpson in court for the 1994 murders Nicole Brown Simpson and Ronald Goldman. It was a called a "dream team," but Dershowitz claims they were anything but.
"It was a nightmare team," he told Inside Edition. The lawyers' egos were clashing. Everybody was trying to take credit. We won, not because we were good but because the prosecution was so bad." You can see him talk more here:
The case had its upsides, he told Business Insider. They'd accused the Los Angeles Police Department of trying to frame Simpson, possibly the biggest factor in the 1995 acquittal.
"I think it was the first time the LA Police Department was caught doing what it had been doing for years and that is framing 'guilty' people," Dershowitz said. "In their minds, O.J. was guilty, and therefore it was OK to frame." The LAPD, which investigated Simpson for the murders, has a historic reputation for corruption, with things like the Rampart scandal tainting its history.
The trial and the surrounding events now being covered by a TV series. You probably heard of American Crime Story, where Cuba Gooding Jr. is playing Simpson.
Former detective Tom Lang is pretty sour about the show. "It's the LAPD on trial," he told Inside Edition. "The brutal LAPD. The racist LAPD. What really happened is that two young people were brutally slaughtered. Two lives ended tragically, terrible. That seems to be on the back burner."
[h/t ABA Journal]
[image via screengrab]
–
>> Follow Alberto Luperon on Twitter (@Alberto Luperon)
Have a tip we should know? [email protected]