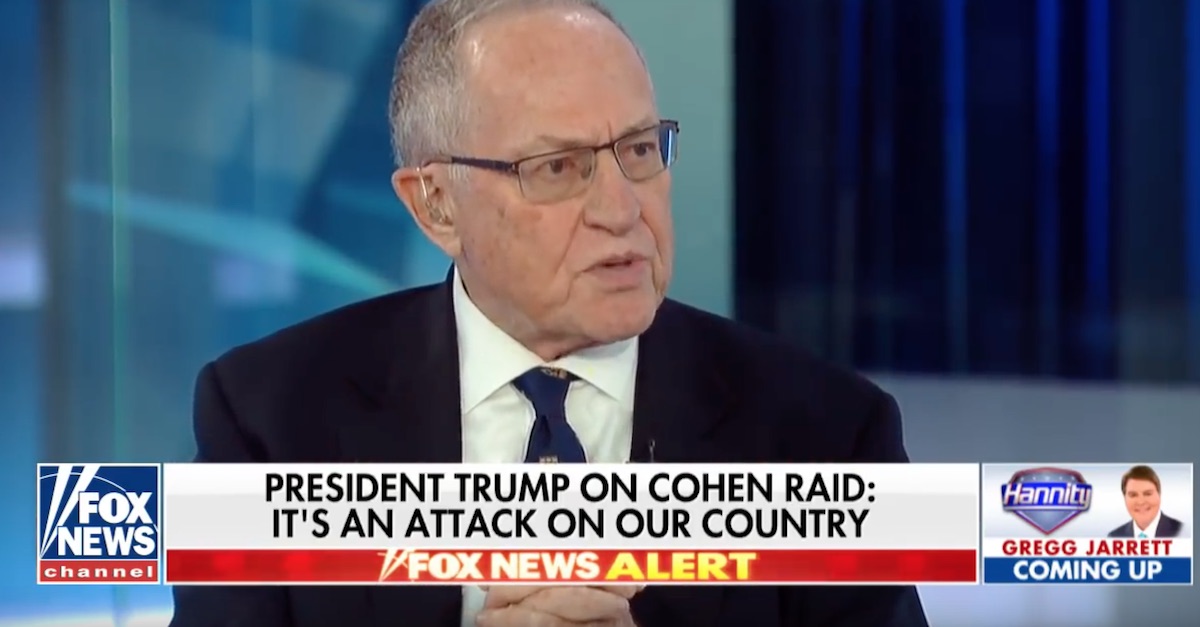 President Donald Trump's lawyer situation in recent months has been nothing short of tumultuous.
Whether it's John Dowd resigning or a Joseph diGenova hire being stonewalled because of conflicts or Ted Olson turning down a job offer or Michael Cohen having his office raided by the FBI. Now there is new speculation that legal pundit and Harvard Law Professor Alan Dershowitz might be the next man up.
The New York Times' Maggie Haberman, citing unnamed White House sources, tweeted Tuesday evening that Dershowitz would be dining with the president Tuesday night because Trump is seeking "his input."
The news bite has some speculating that Trump is mulling over adding Dershowitz to his legal team.
The meeting comes at an interesting time, namely just a day after Dershowitz said he only gives advice to the president on TV, as the Daily Beast's Maxwell Tani noted.
"Look, I don't give advice to the president except on television if he wants to listen, he can listen," Dershowitz told Sean Hannity on Monday night. "But if I were the president, I would at least seriously consider going to court tomorrow, seeking to have a judge get ahold of all the lawyer-client material, take it away from the prosecutor, take it away from the FBI. Don't let an FBI agent look at any of them."
And, as our friends at Mediaite reported, Dershowitz's comment to Hannity was played on Fox & Friends Tuesday morning that the raid on Michael Cohen's office amounted to "a very dangerous day today for lawyer-client relations."
President Trump also clearly thought Monday was a "dangerous" day for attorney-client privilege, considering he tweeted the following at 7 a.m.:
The Dershowitz clip on Fox & Friends was played about an hour before Trump's tweet, at 6:05 a.m.
Have a tip we should know? [email protected]