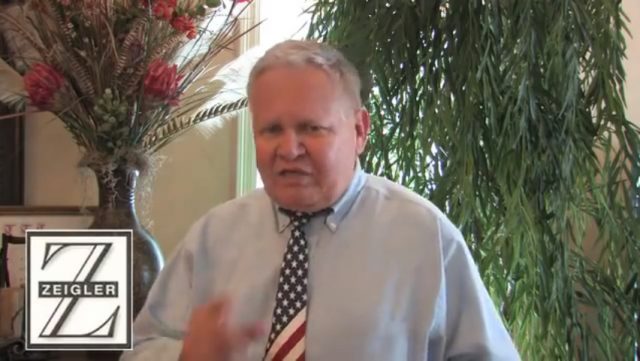 Today, an elected member of the GOP defended Alabama Senate Republican candidate Roy Moore by saying Joseph married Mary (yes, Jesus' parents) when Mary was a teen, and he an adult.
Moore was accused of sexually assaulting a 14-year-old girl earlier today. Three other women later came forward with similar stories of sexual predation allegedly committed while they were teenagers and Moore was a high-powered attorney in his thirties.
Later this afternoon, Alabama State Auditor Jim Zeigler rose to Moore's defense. A fellow Republican and Christian, Zeigler invoked various bible stories in an attempt to run theologically-based interference for his friend and colleague. He said [emphasis added]:
Take the Bible. Zachariah and Elizabeth for instance. Zachariah was extremely old to marry Elizabeth and they became the parents of John the Baptist. Also take Joseph and Mary. Mary was a teenager and Joseph was an adult carpenter. They became parents of Jesus.
Zeigler also said Moore's behavior ranked as "nothing to see here" because "Even the Washington Post report says that he never had sexual intercourse with any of the girls and never attempted sexual intercourse." He also defended Moore by saying the former judge ultimately fell in love with and wed a much younger woman. Moore's wife of 35 years, Kayla Moore, is 14 years his junior. This relationship began around the time Moore's alleged improprieties with teenage women are said to have occurred.
Moore's main accuser, Leigh Corfman, said he kissed her on two separate occasions and that during the second instance, he removed her clothing and then groped her over the bra and panties before directing her hand toward his underwear. She was 14 at the time, she said. He was 32. Alabama's age of consent was and is 16.
Corfman was initially allegedly approached by Moore outside of a courtroom while Corfman's mother attended a custody hearing.
Zeigler ended his defense of Moore by asserting, "There's just nothing immoral or illegal here. Maybe just a little bit unusual."
[image via screengrab]
Follow Colin Kalmbacher on Twitter: @colinkalmbacher
Have a tip we should know? [email protected]