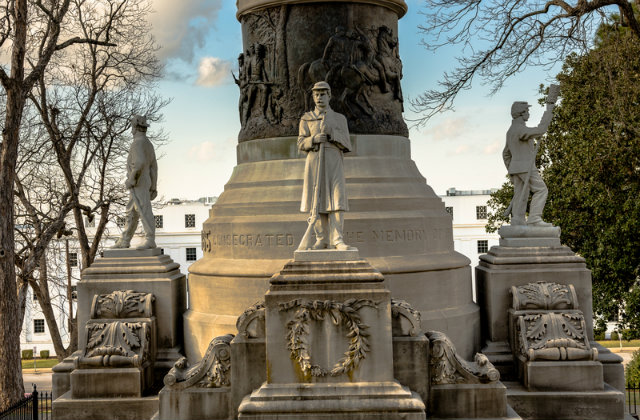 It is called the Alabama Memorial Preservation Act of 2017. Signed this week by Gov. Kay Ivey, a Republican, it clamps down how whether people can move or change monuments in the state. No mention of the Confederacy is made in the law, but critics say it is meant to help glorify the South's problematic past.
This comes amidst tense standoffs over the removal of Civil War-era monuments. Louisiana recently moved four, but protesters, including one guy screaming the N-word at a black counter-protest, came out against the move. A Mississippi lawmaker recently said Louisiana leaders "should be lynched" if they came after his state's monuments. Similar controversies have sprouted up in Kentucky and Virginia.
As for Alabama's new bill, it specifically protects monuments at least 40 years old. No moving, removing, alteration, name changing, or "other disturbance of any architecturally significant building, memorial building, memorial street, or monument located on public property."
This also creates a "mechanism" by which monuments between 20 and 40 years old are changed or somehow moved; and establishes means by which "memorial" public schools at least 20 years old are renamed.
For example, the Confederate Memorial Monument at the state Capitol grounds would be protected from removal.
"You say we are protecting history," said bill opponent state Sen. Hank Sanders (D-Selma), according to AL.com. "We are not protecting history. We are protecting monuments that represent oppression to a large part of the people in the state of Alabama."
"Contrary to what its detractors say, the Memorial Preservation Act is intended to preserve all of Alabama's history–the good and the bad–so our children and grandchildren can learn from the past to create a better future," bill sponsor Sen. Gerald Allen said.
[Image of Alabama Confederate Monument via JNix and Shutterstock]
Have a tip we should know? [email protected]