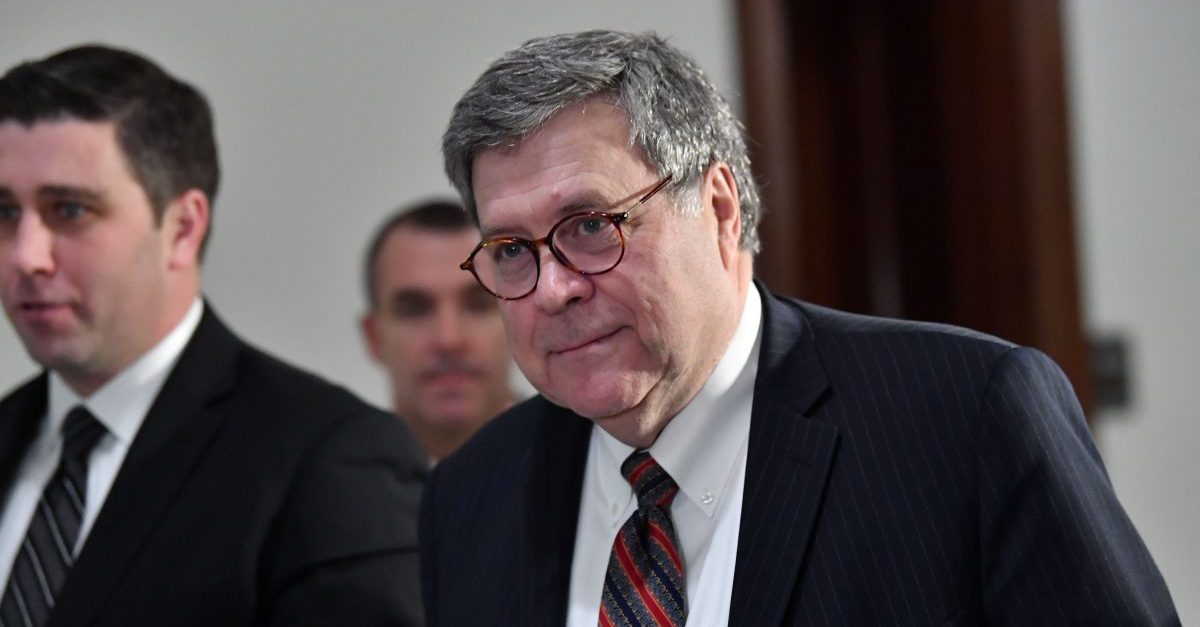 As Congress continued to grill U.S. Attorney General William Barr on all things related to the release of Special Counsel Robert Mueller's Russia Report on Wednesday, the back-and-forth veered into the land of spying and intrigue. Barr testified before lawmakers that he thinks "there was spying" on the Trump campaign and he defined spying as "unauthorized surveillance."
This is an interesting development when you consider that President Donald Trump previously claimed, without evidence, that the Obama administration wiretapped Trump Tower during the 2016 campaign. Although the Department of Justice shot that down in 2017, agreeing that there was no evidence to support this, Barr, the new leader of the DOJ, seems to believe "unauthorized surveillance" may have occurred. Not only is he suggesting that was a possibility, he is also vowing to look into it.
"I think spying on a political campaign is a big deal," he said. "I am not suggesting that those rules were violated, but I think it's important to look at them."
Barr's clarification that by "spying" he meant "unauthorized surveillance" is notable, since this would mean he was not talking about FISA warrants.
Although FISA warrants are issued in secret proceedings, and are controversial for that very reason, they must still be authorized by a judge on the United States Foreign Intelligence Surveillance Court (FISC).
This is to say that what Barr is talking about appears to be separate from the complaints lodged by one Carter Page, the former Trump campaign adviser who was the target of such warrants.
Barr already tipped his hand in January 2019 when appearing before the Senate Judiciary Committee for his confirmation hearing. Committee chairman Sen. Lindsey Graham (R-S.C.) got Barr to promise to "look into what happened in 2016."
Graham began by asking, "Do you know Lisa Page and Peter Strzok?"
"I've heard their names," Barr responded, smiling.
Graham then read a text message from 2016 that said, "Trump's not ever going to become president, right? Right." That one was from FBI lawyer Lisa Page. Then FBI agent Peter Strzok, who worked on the Hillary Clinton email investigation, responded by saying, "No, no. We'll stop it."
Barr said he was "shocked" when he saw these texts for the first time. From there, Graham shifted to the subject of the unverified "Steele Dossier" compiled by former MI6 agent Christopher Steele. Graham asked Barr to look into Fusion GPS, the Carter Page FISA warrant, and the use of the unverified Steele Dossier to monitor Page.
"Would you look into whether that was an accurate statement and hold people accountable if it was not?" Graham asked.
Again Barr answered, "Yes, Mr. Chairman."
Barr didn't suggest at that time, however, that there may have been "unauthorized surveillance."
[Image via Nicholas Kamm/AFP/Getty Images]
Have a tip we should know? [email protected]