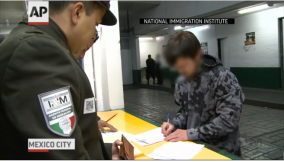 He's America's favorite criminal, he's public enemy # 1, he's Ethan Couch. The infamous "affluenza" teen cannot seem to stay out of the news. Now, the Associated Press (AP) is reporting that there's more than meets the eye: Ethan's recent indiscretions were not his, or his family's, first run-in with the law.
The son of Tonya Couch and Fred Couch was pulled over in February 2013, four months before his deathly DWI accident, by Fort Worth, Texas Officer W.E. Spakes on suspicion of drunk driving. Records obtained by the Associated Press paint a disturbing picture of reckless youth: a half-naked passed out girl, an open bottle of vodka, and a combative, booze-breathed Couch behind the wheel of a pickup truck.
Spakes recalls, "I spoke with him [Couch] at some length about the various consequences of his driving and drinking…such as effects on (his) driver's license and his path in life, especially DWI and even killing someone in a DWI." Nevertheless, the officer let the teenager off with two citations. His mother Tonya was called to the scene by Spakes. Four months later, in June 2013, Couch killed four people in a drunk-driving accident.
Spakes described Couch as "very arrogant, a smart-mouthed kid that had a bit of an attitude with authority," and continued, "[H]e has a hard time listening and has come from a family with wealth, and he appears to believe he's privileged and entitled with no responsibility."
The AP further reports that the Couch family has a long history of run-ins with the law. A review of police and court records show the family's legal troubles started in the 1980s, when they began to accumulate a rap sheet of over 20 incidents, including speeding tickets, reckless driving and assault.
Couch shot into the public eye at age 16, after he avoided serving any jail time despite killing four people in the tragic 2013 accident. Couch's defense team relied, in part, on the "only in America" argument that his wealthy upbringing prevented him from understanding the consequences of his actions; a grisly case of "affluenza" or, in layman's speak, a spoiled teen.
[h/t Chicago Tribune]
[Screengrab via ABCNews]
Have a tip we should know? [email protected]