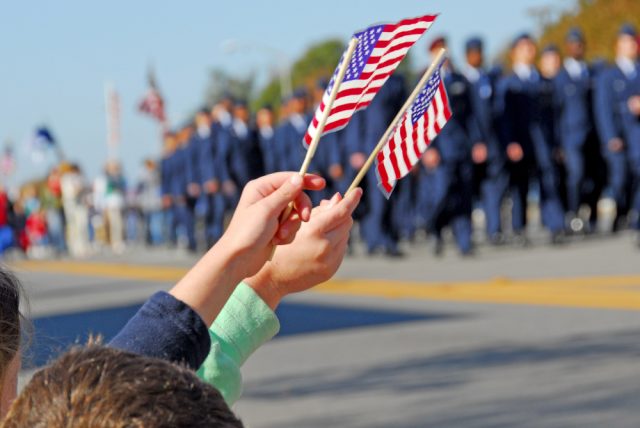 President Trump's recently announced temporary hiring freeze of federal workers is drawing criticism from advocacy groups, but perhaps not for the reasons you would initially think.  The complaints allege the hiring freeze is actually disproportionately affecting groups full of Trump supporters — veterans.  Advocacy groups say veterans are some of the hardest hit groups, despite their favored status and preference in federal hiring practices.
According to a new McClatchy News report on Thursday night, some veterans groups and lawmakers are upset with the announcement and already seeing the impact in the form of canceled and postponed job interviews.  The freeze also will impact the scandal plagued Veterans Administration.
"While there can be no debate that the federal government, including VA, should be more efficient in its delivery of services to all Americans, a hiring freeze at VA will delay veterans' access to health care and resolution of their disability claims, which for many of our nation's heroes provides a sole source of income to them and their families," a group of 53 Democratic lawmakers wrote in a letter to Trump on Thursday.  "Our nation's veterans should not be made to sacrifice any more than they already have while you review federal hiring."
The executive order on federal hiring freezes, issued Monday, states, in part, "I hereby order a freeze on the hiring of Federal civilian employees to be applied across the board in the executive branch. As part of this freeze, no vacant positions existing at noon on January 22, 2017, may be filled and no new positions may be created, except in limited circumstances."
To critics, this was a hastily put together plan and its impact will be most harsh on veterans.
"This freeze raises serious concerns about the president's commitment to veterans and improving the VA," Paul Rieckhoff,  a veteran who's the head of Iraq and Afghanistan Veterans of America told the outlet. "Over the past day, countless IAVA members have contacted us concerned about the future of their health care. Job seekers waiting to hear about a hiring determination just had their hope dashed."
Meanwhile, White House press secretary Sean Spicer defended the order when it was announced, saying its purpose was to prevent "money getting wasted in Washington on a job that is duplicative."
"I think what the president is showing through the hiring freeze, first and foremost, is that we've got to respect the American taxpayer," Spicer added.
However, to critics like Rieckhoff, it leaves too much uncertainty with the veteran community in terms of jobs and healthcare through the VA.
The report claims "almost 2,300 VA posts, cannot be filled until the freeze is lifted."
It is unclear whether Spicer was aware of this claimed number of vacancies prior to his announcement, but his response in general to claims about how the VA might be impacted was that it is essentially time for the VA to recalibrate its plan going forward.
"Hiring more people isn't the answer," Spicer told reporters. "Right now, the system is broken."
However, Acting VA Secretary Robert Snyder later assured the news outlet that the hiring freeze does not apply to anyone the VA  "deems necessary for public safety, including frontline caregivers."
It is also no secret that Trump has repeatedly said throughout the campaign that he would overhaul the VA.  His chosen man to oversee this overhaul as the new VA Secretary is David Shulkin, who previously served as the undersecretary of health for the VA in the Obama administration.  His confirmation hearing is set for February 1.
[image via shutterstock]
Have a tip we should know? [email protected]