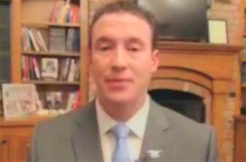 A Donald Trump supporter recently defended a reported registry for Muslim immigrants. How so? He cited the U.S. Government's treatment of Japanese-Americans during World War II. The American Civil Liberties Union had quite a bit to say about that.
"President-elect Trump must immediately disavow his surrogate who cited the racist internment of Japanese-Americans during World War II as support for a program to register and interview Muslim immigrants living in the United States," Cecillia Wang, director of the American Civil Liberties Union's Immigrants' Rights Project, said in a statement obtained by LawNewz.com on Friday.
WATCH VIDEO:
"The ACLU fought the internment of Japanese-Americans all the way to the Supreme Court, and in decades since, the internment has been discredited as a shameful chapter of our history, including by President Ronald Reagan, who called it 'a great injustice' and apologized on behalf of all Americans. If the Trump administration proceeds to discriminate against our Muslim neighbors, families, and friends, we will sue."
What did the surrogate say, exactly? Carl Higbie, a former NAVY SEAL and spokesman for the pro-Trump Great America PAC, spoke with the Megyn Kelly on Tuesday about a proposal to revive a Muslim registry which Kansas Secretary of State Kris Kobach said would help vet immigrants from nations with terrorist organizations. The registry, NSEERS, was designed during the Bush Administration and dropped in 2011 during the Obama Administration.
Higbie said it was fine, and rested on precedent.
"We've done it with Iran back a while ago," he said. "We did it during World War II [with] the Japanese."
"Come on," an incredulous Kelly said. "You're not proposing we got back to the days of internment camps, I hope."
"No, no, no, I'm not proposing that at all, Megyn," he said. "But what I am saying—"
"You know better than to suggest that," she said. "That's the kind of stuff that gets people scared."
"I'm just saying that there's precedent for it," he said. "And I'm not saying I agree with it, but in this case I believe that a regional-based—"
"You can't be citing Japanese internment camps as precedent for anything the President-elect is going to do," Kelly interjected.
"Look, the president needs to protect America first, and if that means having people that are not protected under our Constitution have some sort of registry—until we can identify the truth threaten and where it's coming from, I support it," he said.
"You get the protections once you come here," she said.
We've reached out to the Great America PAC and Trump spokespeople for comment about the ACLU's recent statement, and will update when we hear back. Trump ran on a platform that addressed immigration in the strictest terms. In December 2015, he called for a ban on all Muslim immigrants entering the United States. As of Thursday, the announcement of that proposal remains available on his campaign website.
[Screengrab via Fox News]
Have a tip we should know? [email protected]