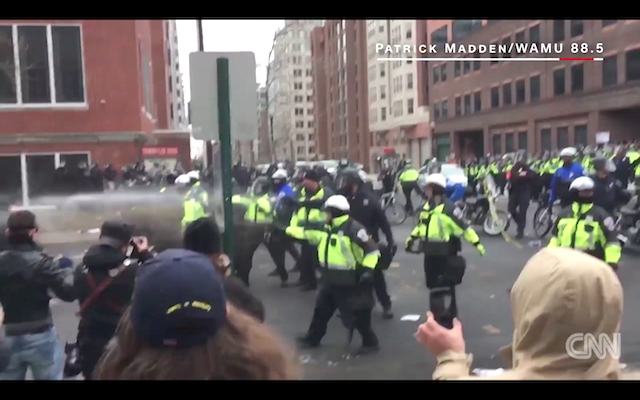 The American Civil Liberties Union (ACLU) went out on a bit of a limb Wednesday, stating that police officers who raped people in their custody committed Constitutional rights violations–specifically infringing the First, Fourth and Fifth Amendments–and brought claims under 42 U.S.C. §1983.
But first let's go back to January 20, 2017. It was one of the first pitched battles of the so-called "resistance" movement against President Donald Trump; in fact, it happened before Trump was officially inaugurated as president.
Scores of Black Bloc anarchists initiated relatively moderate amounts of property damage within the confines of the designated protest route, prompting the Metropolitan Police Department (MPD) to kettle a much larger group of people, including peaceful protesters, journalists and legal observers.
Pepper spray doused those unlucky enough to have been corralled. Tear gas and crowd-control grenades were also used. The kettling went on this way for hours until upwards of 230 people were arrested–most of them slapped with felony rioting charges. Some of those charges have since been dismissed.
The ACLU's Scott Michelman told ThinkProgress that the civil liberties organization said D.C. cops' use of guilt by association, torrential pepper pray and kettling tactics–and that such methods were "Constitutionally dubious."
But a lawsuit filed in federal court on Wednesday documents a series of shocking abuses which amount to physical and emotional abuse carried out for no particular end other than alleged retribution.
The suit charges that an officer stuck a gloved finger into detainees' rectums about an inch deep and then wiggled it around, yanked on their testicles without warning, barked commands not to flinch or resist–and laughed about it all the while with the other officers present as he "moved down the line" and then subjected four others to the sexually humiliating treatment.
Additionally, the complaint notes:
"[The officer] did not change gloves when he moved from one individual to the next."
Rather than limiting the charges to the few-bad-apples theory, however, the lawsuit takes wholesale aim at the D.C. police establishment, stating:
"The coordinated MPD response is part of a custom of the District of Columbia of responding with overwhelming and unlawful force to non-violent demonstrators at largely peaceful demonstrations where some law-breaking is occurring."
The MPD released a statement in response to the lawsuit, defending their officers and asserting respect for the First Amendment.
Here's our statement responding to the lawsuit filed today by the @ACLU_DC. pic.twitter.com/61FH3L6XnW

— DC Police Department (@DCPoliceDept) June 21, 2017
The MPD's statement also said that allegations of misconduct would be fully investigated.
The ACLU, for their part, isn't buying it. Michelman said, "We have significant concerns that that won't be sufficient, in light of repeat problems MPD has had with arresting law-abiding demonstrators and responding…with excessive force."
The suit names the District of Columbia, Police Chief Peter Newsham, the MPD and as many as 170 unnamed MPD officers as defendants.
[image via Shutterstock]
Follow Colin Kalmbacher on Twitter: @colinkalmbacher
Have a tip we should know? [email protected]