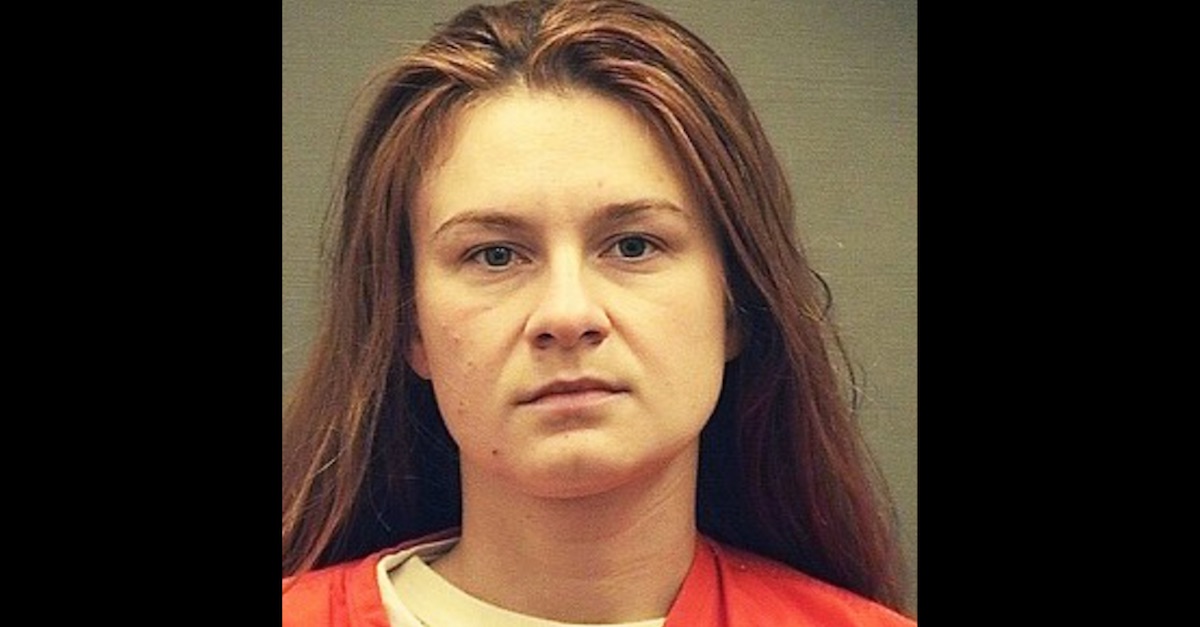 When we learned that accused Russian agent Maria Butina reached a cooperation agreement with federal prosecutors on Monday, we also learned that her NRA-connected boyfriend Paul Erickson appeared to be in jeopardy of being charged along with her. Now it's Tuesday and Erickson has issued a statement to the Daily Beast through his lawyer Bill Hurd, denying that he has ever done anything to hurt America.
"Paul Erickson is a good American. He has never done anything to hurt our country and never would," Hurd said. Erickson, a U.S. citizen, has reportedly received a "target letter" from prosecutors and may be charged for acting as a foreign agent.
Erickson is believed to be the "U.S. Person 1" referred to in Butina's cooperation agreement. That person allegedly "conspired" with Butina and a "Russian government official" to act as a foreign agent in the U.S.:
[Butina] admits, as part of the deal, according to a copy obtained by ABC News that is expected to be filed to the court, that she and an unnamed "U.S. Person 1," which sources have identified as longtime Republican operative Paul Erickson, with whom she had a multiyear romantic relationship, "agreed and conspired, with a Russian government official ("Russian Official") and at least one other person, for Butina to act in the United States under the direction of Russian Official without prior notification to the Attorney General."

Based on the description, the "Russian Official" appears to be Alexander Torshin, deputy governor of the Russian Central Bank and a close ally of Russian President Vladimir Putin. Under his direction, the agreement said, she "sought to establish unofficial lines of communication with Americans having power and influence over U.S. politics."
The "Russian official" appears to be the man said to be Butina's handler, Alexander Torshin, a high-ranking official of Russia's Central Bank who is considered a political ally of Russian President Vladimir Putin.
Butina was accused of failing to register as a foreign agent while she was living in the United States and allegedly attempting to influence American policy. Butina pleaded not guilty to the charge, but that has since changed given Butina's intent to change her plea. The criminal complaint against her accused her of infiltrating a gun rights organization (believed to be the NRA) and using it to try to influence U.S. policy by interacting with politicians who maintained connections with the organization.
Erickson is believed to have assisted Butina's efforts, as he was reportedly serving as her guide while she was a graduate student at American University.
Court documents in Butina's case mentioned an unidentified person who discussed "securing a VERY private line of communication between the Kremlin" and the GOP. It remains to be seen if prosecutors believe this person to be Erickson, but according to a New York Times report, Erickson made an offer to the Trump campaign to set up such a back channel in May 2016.
Eyebrows were raised all the more when, for instance, the detail emerged that an FBI raid on Erickson's South Dakota home yielded a handwritten note that said "How to respond to FSB offer of employment?"
The FSB is Russia's Federal Security Service, a successor of the notorious KGB.
Although this matter deals with alleged Russian efforts to influence American politics, the cases against Butina and Erickson are separate from special counsel Robert Mueller's Russia investigation.
Ronn Blitzer and Aaron Keller contributed to this report.
[Image via Alexandria Detention Center]
Have a tip we should know? [email protected]