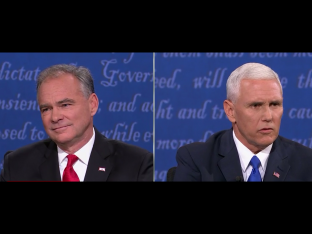 During the vice presidential debate on Tuesday night, Senator Tim Kaine briefly mentioned a federal court decision that prevented Gov. Mike Pence from enacting a policy to block payments to a group that helped resettle Syrian refugees. He was right.
Here is a bit more on what Sen. Kaine was talking about.
Gov. Pence's administration enacted a policy to block payments to Exodus Refugee Immigration, Inc., a nonprofit organization that assists refugees, including Syrian refugees, with resettlement in the United States.  According to court briefs, the Pence administration argued the state of Indiana had a "compelling interest in protecting its residents from the well‐documented threat of terrorists posing as refugees to gain entry into Western countries."
The 7th Circuit Court of Appeals rejected Gov. Pence's argument.
Writing for the majority, Judge Richard Posner wrote, "[T]he brief provides no evidence that Syrian terrorists are posing as refugees or that Syrian refugees have ever committed acts of terrorism in the United States. Indeed, as far as can be determined from public sources, no Syrian refugees have been arrested or prosecuted for terrorist acts or attempts in the United States."
[image via screengrab]
Have a tip we should know? [email protected]