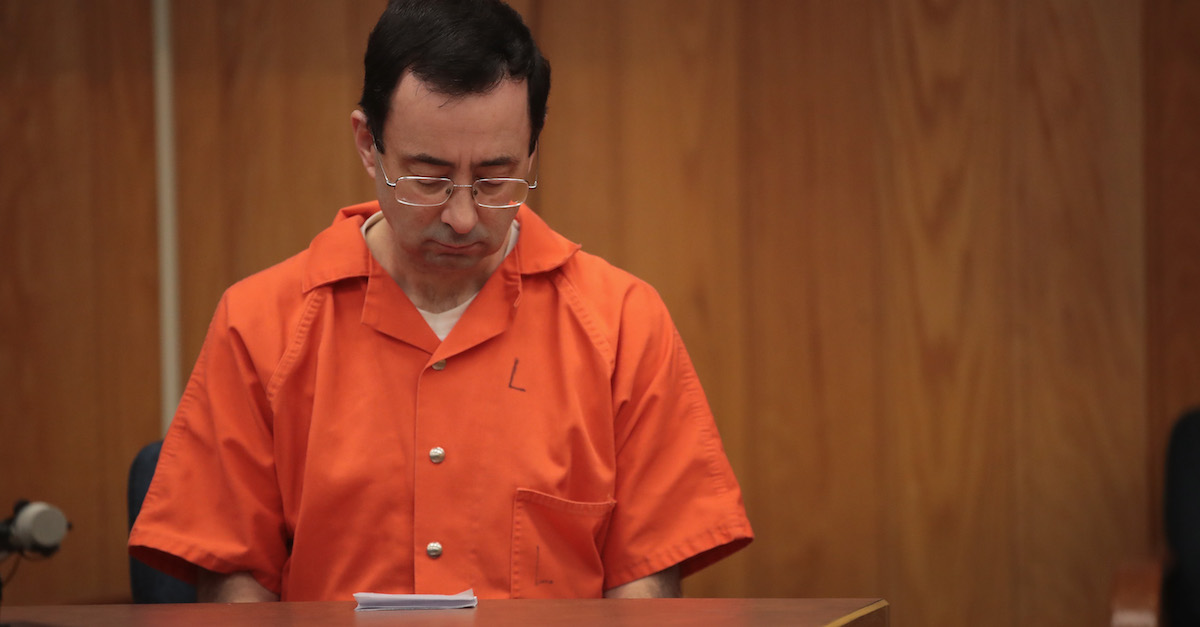 The fallout from the Larry Nassar scandal at Michigan State University (MSU) continues with the reported news that six current or former employees of the university in the medical field are under investigation by the state Department of Licensing and Regulatory Affairs (LARA).
The Lansing State Journal reported that Dr. William Strampel, former sports trainers Destiny Teachnor-Hauk and Dr. Brooke Lemmen, current sports trainer Lianna Hadden, MSU Sports Medicine clinic head Dr. Douglas Dietzel, and former MSU clinical psychologist Dr. Gary Stollak were all named.
The report says that the investigations by the licensing agency are separate from other investigations of MSU. Current or former employees Hadden, Dietzel, Teachnor-Hauk, and Stollak were named as defendants in a lawsuit against MSU that has since been settled.
Victims said Hadden, Teachnor-Hauk and Stollak were told about Nassar sexual abusing them.
LARA is looking for licensing violations. Possible consequences include a revoked license, but the punishment could also be a fine. At the time of this writing, neither the school nor those being investigated have commented.
Recently released emails between Nassar and Strampel, dean of osteopathic medicine at MSU, show that Strampel was initially supportive of him when allegations of abuse were made.
Nassar sent multiple emails to Strampel in Sept. 2016.
In another one, Nassar responded to an interview request from an Indianapolis Star reporter by forwarding it to Strampel and asking for advice.
"I spoke to my attorney and he said I should talk to the reporter to prevent the story from being one-sided so that I can deny any wrong doing," he said. "I am asking for legal assistance from MSU as to how to handle this. Should I work through my own attorney or through MSU or both? I am so sorry about this mess."
Strampel replied by suggesting Nassar shouldn't "blame the victim" during an interview and should emphasize medical treatments were "science-based." Strampel also said, "I am on your side," and "I do wish you luck."
In a later email on Sept 15, Nassar expressed disbelief over the accusations against him.
"I knew the media blitz was going to create more people to call in with accusations about me but this is absurb (sic)," he said. "I have not been charged with any crime. I don't understand why this is happening. This is not right. …. This is not right."
By then, Strampel's apparent support had waned.
"There seems to have been more people who have come forward," he said. Nassar was fired on Sept. 16.
[Image via Scott Olson/Getty Images]
Have a tip we should know? [email protected]