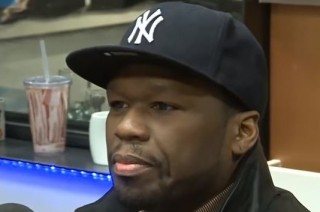 In what's probably the lamest rapper arrest of all time, 50 Cent, real name Curtis Jackson, was arrested in St. Kitts for — get this — cursing.
According to TMZ, 50 Cent had a show on the Caribbean island Saturday night, and during one of his songs, yelled the word "motherf*****r" into this mic. Apparently using that kind of language is a big no-no over there, and sources told TMZ that 50 Cent had been warned beforehand not to say it.
Officers showed up and apprehended the rapper after the show was over, and brought him to the police station on a charge of using profanity in public. 50 Cent will have to stay on the island until Monday, when he can go to court and pay a fine to settle the matter.
Have a tip we should know? [email protected]