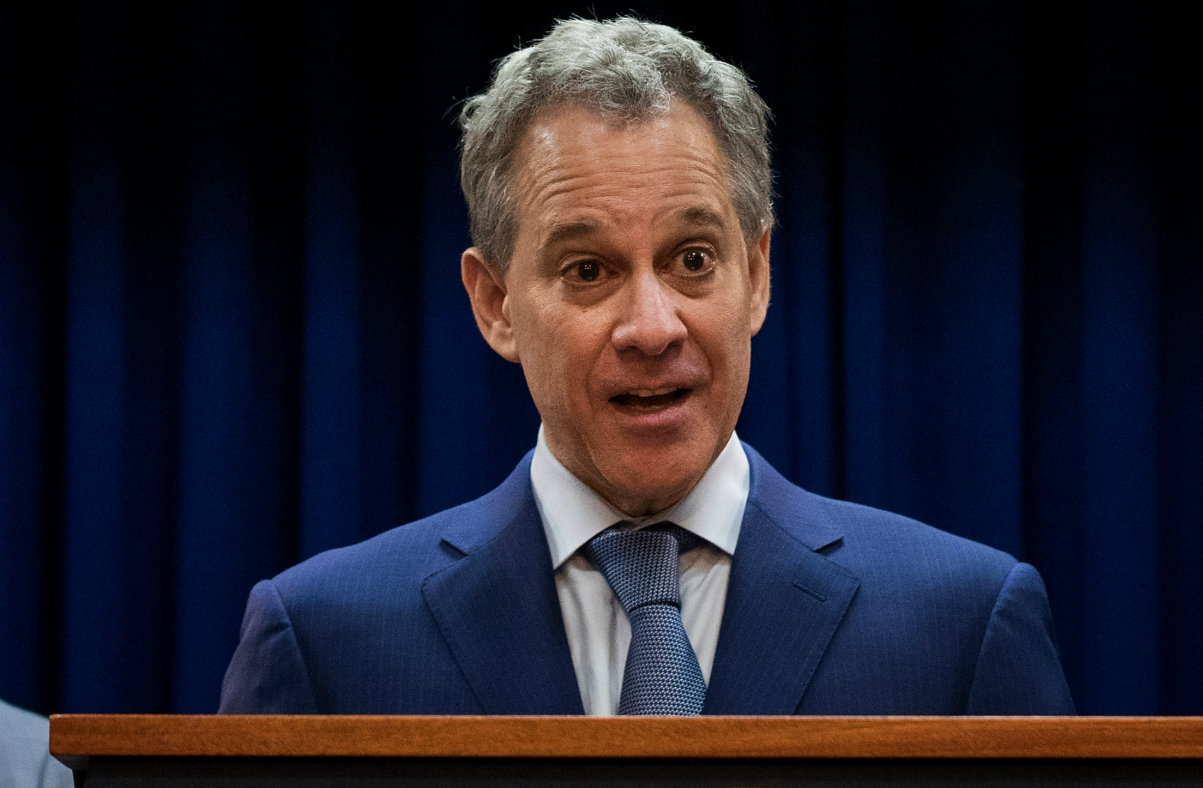 New York Attorney General Eric Schneiderman has been accused by four women of abusive behavior. Two of them, Michelle Manning Barish and Tayna Selvaratnam, spoke on the record with The New Yorker in a new report.
#1 One woman claims Schneiderman called her his "brown slave." 
Both Barish and Selvaratnam claim Schneiderman repeatedly hit them, often times in bed, and without their consent.
Barish was with him on-and-off from Summer 2013 to New Year's Day 2015. In one instance, at his Upper West Side apartment, they were getting ready for bed, when he called her a "whore," and she talked back. They had been drinking.
"All of a sudden, he just slapped me, open handed and with great force, across the face, landing the blow directly onto my ear," she said. "It was horrendous. It just came out of nowhere. My ear was ringing. I lost my balance and fell backward onto the bed. I sprang up, but at this point there was very little room between the bed and him. I got up to try to shove him back, or take a swing, and he pushed me back down. He then used his body weight to hold me down, and he began to choke me. The choking was very hard. It was really bad. I kicked. In every fibre, I felt I was being beaten by a man."
In her story, Schneiderman accused her of scratching him, and said it was a felony to hit "an officer of the law."
Three female friends and former boyfriend Salman Rushdie each told the outlet that Barish told them at the time that Schneiderman had hit her.
Barish suggested the slap might have caused injury to the ear, but when she went to a doctor to get "dried blood crust" from it, she lied, saying it was caused by a Q-tip. "I was protecting Eric, and I was ashamed."
Selvaratnam, who is an author, was with Scheiderman from Summer 2016 to Fall 2017. She described him as "Dr. Jekyll and Mr. Hyde," and claimed he physically abused her in bed.
"The slaps started after we'd gotten to know each other," she said. "It was at first as if he were testing me. Then it got stronger and harder." He eventually would end up choking her to the point she couldn't breathe. She described him as a "misogynist and sexual sadist."
He made sexual demands, and had an obsession with having a threesome with a second woman. Schneiderman would hit her until she agreed to find a second woman, Selvaratnam said. He would call her his "brown slave," and demanded she call him "master." (Selvaratnam was born in Skri Lanka, and is described as having dark skin.)
#2 Death Threats
Both women claim he threatened to kill them if they left him.
"If you ever left me, I'd kill you," Barish reported him as saying.
"I was scared what he might do if I left him," Selvaratnam said. "He had said he would have to kill me if we broke up, on multiple occasions. He also told me he could have me followed and could tap my phone."
#3 Controlling Behavior 
Both woman said he exhibited signs of controlling behavior. According to Barish, he told her to remove a tattoo from her wrist. Selvaratnam claimed she was told to get plastic surgery to get rid of scars from an operation for cancerous tumors. He'd also tell her to get breast implants, smack talk her friends, and tell her to leave a birthday party just when the cake arrived.
#4 Alleged Drug Use and a Heavy Drinker
Barish and Selvaratnam both said Schneiderman was a heavy drinker, who egged them, even forced them, to imbibe as well. In one instance, on January 19, 2017, Selvaratnam said he called her from a hospital emergency room.
"He told me that he'd been drinking the night before he fell down," she said. "He didn't realize he'd cut himself, and got into bed, and when he woke up he was in a pool of blood."
He had gotten stitches over his left eye. She shared a picture with the outlet, which the outlet describes as showing him with a black eye, and a bandage on the left side of his forehead.
A spokesperson for Schneiderman had a different story.
"One morning, Mr. Schneiderman fell in the bathroom while completely sober, hit his head, and had to go the the E.R. for stitches. Because he was embarrassed to tell his staff he fell in the bathroom, he told them he fell while running."
Barish said Scheiderman took prescription tranquilizers. He allegedly asked her to refill her Xanax prescription so he could have half for himself.
#5 Two Other Women Claim Schneiderman Abused Them
A third woman reportedly told Barish and Selvaratnam that Schneiderman physically abused her too, but she was too scared to step forward. The New Yorker said it vetted "the accounts that they gave of her allegations." A fourth woman, who is a lawyer, said Schneiderman slapped her after she rebuffed him. She gave the outlet a picture of her face with the mark left behind by the alleged attack.
The attorney, who is described as an Ivy League graduate, said the AG came onto her.
"Yeah, you act a certain way and look a certain way, but I know that at heart you are a dirty little slut," he allegedly told her. "You want to be my whore."
 Schneiderman Says He Never Violated Consent
Scheiderman has denied wrongdoing.
"In the privacy of intimate relationships, I have engaged in role-playing and other consensual sexual activity," he said in a statement obtained by the outlet. "I have not assaulted anyone. I have never engaged in nonconsensual sex, which is a line I would not cross."
According to the women, this was definitely not kink-gone-wrong.
"I want to make it absolutely clear," Barish said. "This was under no circumstances a sex game gone wrong. This did not happen while we were having sex. I was fully dressed and remained that way. It was completely unexpected and shocking. I did not consent to physical assault."
"It wasn't consensual," Selvaratnam said. "This wasn't sexual playacting. This was abusive, demeaning, threatening behavior."
[Image via Drew Angerer/Getty Images]
Have a tip we should know? [email protected]