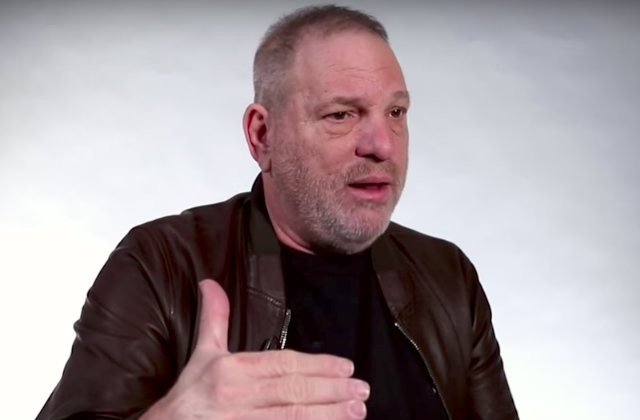 The New York Times published a report on Thursday, which claimed movie mogul Harvey Weinstein has spent nearly three decades sexually harassing young actresses and staffers. Here are the big allegations:
#1 – There were allegedly eight settlements: Sources, described as "two company officials speaking on the condition of anonymity" told the Times that Weinstein settled sexual harassment claims with at least eight women over the years. This included an assistant in 1990, an actress in 1997 (more on that later), and an Italian model in 2015. One of the women, staffer Lauren O'Connor, reportedly wrote a 2015 memo claiming that Weinstein sexually harassed her over a two-year period.
#2 – He allegedly pursued actresses…: Actress Ashley Judd told the Times that Weinstein harassed her when she was shooting the 1997 film Kiss the Girls. Judd said Weinstein had her sent up to his hotel room. She claimed he was wearing a bathrobe, and asked if she could give him a message, help him pick out clothes for the day, and watch him shower. Judd said she was "panicky [and] trapped" about the incident, and because of his leverage as a head honcho at Miramax. The Times report also said that actress Rose McGowan, then 23, settled with Weinstein in 1997 over an alleged incident in a hotel room during the Sundance Film Festival. The settlement, which the Times first reported, said it wasn't an admission of guilt, but meant to "avoid litigation and buy peace." McGowan declined to comment in the article.
#3 – …and staffers: Weinstein's alleged victims fit the same profile–young women in their 20s looking to break into the business. This included assistants like O'Connor. She said, in her above-mentioned memo, Weinstein asked her for what the Times described as a massage (while he was allegedly naked), leaving her "crying and very distraught."
#4 – It Allegedly Wasn't a Big Secret: Judd said it has been an open secret for years: "Women have been talking about Harvey amongst ourselves for a long time, and it's simply beyond time to have the conversation publicly." O'Connor wrote her memo in 2015, addressed to several executives at Weinstein's company. Sources told the Times that executives, including his 62-year-old brother and partner Bob Weinstein, were alarmed by the memo's claims, but this went nowhere. As the Times put it: "In the end, though, board members were assured there was no need to investigate." O'Connor later settled with Weinstein, pulling back on her allegations, and thanking him for hiring her. The Times said that "dozens" of Weinstein's former and current employees said they knew about this behavior, though only a few claimed to have confronted him about it. This reportedly included assistants and execs.
#5 – Despite denying allegations, Weinstein says he will seek treatment: "The parties made peace very quickly," attorney Lisa Bloom told the Times about O'Connor's settlement. Bloom is advising Weinstein despite being known for representing plaintiffs in sexual harassment claims. She said in a statement that Weinstein "denies many of the accusations as patently false." Weinstein himself told the Times earlier this week that claims in O'Connor's memo were "off base." Nonetheless, he said he will seek therapy. "I appreciate the way I've behaved with colleagues in the past has caused a lot of pain, and I sincerely apologize for it," he told the Times in a statement Thursday afternoon. "Though I'm trying to do better, I know I have a long way to go." He will take a leave of absence to "deal with this issue head on," he told the Times. Weinstein did not specifically detail what he had to apologize for.
[Screengrab via CNN]
Have a tip we should know? [email protected]