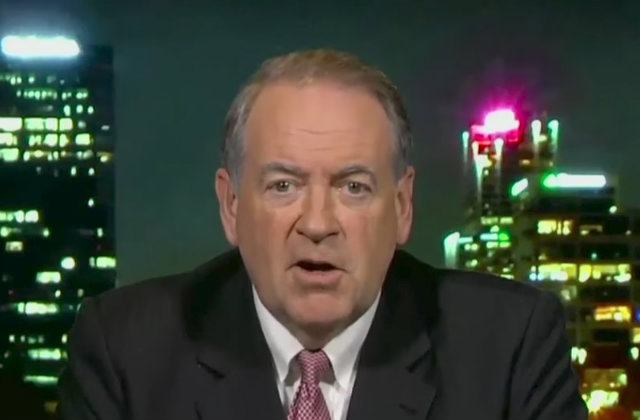 An ongoing lawsuit claims that a robocall by former Arkansas Gov. Mike Huckabee was made about four million times. Now lawyers for the plaintiffs are reaching out to potential members of a class action lawsuit. Mailers were sent out last week, and first reported by The Daily Beast.
Side two of #Huckabee #ClassAction lawsuit pic.twitter.com/CcMjJQQiSG

— Clara Listensprechen (@ClaraListenspre) June 23, 2017
The lawsuit stems from the promotion of a Christian-themed film Last Ounce of Courage. Huckabee's involvement in the marketing campaign is in line with his image as a minister and pious kind of guy.
But promoting the film resulted in unsolicited commercial phone calls voiced by Huckabee, plaintiffs said. According to a January ruling from a Missouri federal court, which approved the class action certification.
"Plaintiffs allege the telephone calls were prerecorded, appeared as surveys to recipients about traditional American values, and told recipients if they believed in freedom and liberty, they would enjoy the movie," it read. Plaintiffs said they got two robocalls on their home telephone number, which was registered on the federal Do Not Call list. On top of that, they did not consent to receive these calls, they claim.
These robocalls violated the Telephone Consumer Protection Act, plaintiffs argued. That law prohibits unsolicited commercial phone calls.
Defendants opposed the class action ruling, saying not everybody involved had experiences like the plaintiffs.
"Defendants assert other class members may have consented, been at home at the time the calls were made, answered the phone, and suffered a concrete injury-in-fact, unlike Plaintiffs," the January ruling said.
Plaintiffs Dorit and Ron Golan have had a winding road in court, first filing a petition in St. Louis County in 2012. A lawsuit was dismissed, but an 8th Circuit appeals court overturned that ruling in June 2015.
Huckabee had been one of the defendants but claims against him were also dismissed, however.
Neither the governor nor the film's director Darrel Campbell responded to the Beast's request for comment.
[Screengrab via Fox News]
Have a tip we should know? [email protected]