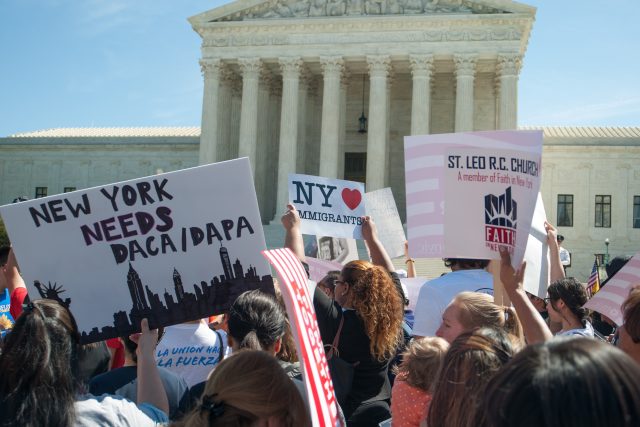 NEW YORK (AP) — Fifteen states and the District of Columbia sued the U.S. government Wednesday to block President Donald Trump's plan to end protection against deportation for young immigrants, saying it was motivated by prejudice against Mexicans.
Legal experts, however, say the evidence of bias is not strong in the case involving the Deferred Action for Childhood Arrivals program, or DACA.
"It might be able to muck up the works, maybe push off the effective date of the repeal, but I don't see litigation being successful in the same way as the travel ban," Kari Hong, an immigration expert at Boston College Law School, said, referring to the lawsuit earlier this year that limited the Trump ban involving predominantly Muslim nations.
As indications of Trump's bias, the suit cited his previous statement referring to some Mexican immigrants as rapists and his decision to pardon former Arizona Sheriff Joe Arpaio, who was convicted of contempt for ignoring a federal court order to stop traffic patrols that targeted immigrants.
"Ending DACA, whose participants are mostly of Mexican origin, is a culmination of President's Trump's oft-stated commitments — whether personally held, stated to appease some portion of his constituency, or some combination thereof — to punish and disparage people with Mexican roots," the lawsuit filed in federal court in Brooklyn said.
In its fight against the travel ban, Hawaii argued that it was illegally motivated by religious discrimination against Muslims and used statements Trump made as a candidate to support that claim.
A federal judge agreed and blocked the ban, though the U.S. Supreme Court later allowed a version to move forward.
The attorneys general who brought the DACA lawsuit — all Democrats — represent states where the population of DACA participants ranges from hundreds to tens of thousands. Known as "dreamers," they were brought to the U.S. illegally as children or came with families who overstayed visas.
Attorney General Jeff Sessions said Tuesday the program will end in six months so Congress can have time to find a legislative solution for people in the program.
Opponents of the program called DACA an unconstitutional abuse of executive power.
Supporters of the DACA program disagreed.
New York Attorney General Eric T. Schneiderman said Trump's plan is "cruel, shortsighted, inhumane" and driven by a personal bias against Mexicans and Latinos.
He said the 42,000 New Yorkers with protected status under the program are largely model citizens.
"They are the best of America," Schneiderman said.
"Dreamers play by the rules. Dreamers work hard. Dreamers pay taxes. For most of them, America is the only home they've ever known. And they deserve to stay here," he said.
Devin M. O'Malley, a Justice Department spokesman, said the agency looks forward to defending the administration's position.
Pratheepan Gulasekaram, who teaches immigration and constitutional law at Santa Clara University School of Law, agreed that the bias claim will be hard to win.
"As a general matter, showing animus is not easy especially showing animus on the basis of nebulous statements that don't necessarily reference this group," he said.
Holly Cooper, co-director of the Immigration Law Clinic at the University of California Davis School of Law, disagreed, saying: "Given his past history, pretty explicit statements against people of color and immigrants and people of certain religions, you have a lot of evidence to work with to make this case."
Under Trump's plan, people already enrolled in DACA remain covered until their permits expire. If that happens before March 5, they are eligible to renew them for another two years as long as they apply by Oct. 5. But the program isn't accepting new applications.
Trump on Tuesday said he had "love" for those who benefited from DACA and said he hoped Congress would help them.
Plaintiffs in the lawsuit include New York, Hawaii, Washington, Massachusetts, Connecticut, Delaware, Illinois, Iowa, New Mexico, North Carolina, Oregon, Pennsylvania, Rhode Island, Vermont and Virginia.
A half-dozen beneficiaries of DACA — young adults from Mexico, Venezuela, Peru and elsewhere, including some now working at law firms or for the state Legislature — flanked Washington Gov. Jay Inslee and Attorney General Bob Ferguson, both Democrats, at a news conference in Seattle announcing the lawsuit.
"It's outrageous, it's not right," an emotional Ferguson said. "As attorney general for the state of Washington, I have a hammer, it's the law."
California, one of the most solidly Democratic states with a large immigrant population, was noticeably absent from the group of plaintiffs.
California Attorney General Xavier Becerra said he plans to file a separate lawsuit, noting that the state has a high number of DACA recipients.
"The breadth and scope of the impact of the president's, I'd say, heartless decision is going to be felt here more than anywhere else," he said.
California's lawsuit isn't likely to make any different legal arguments, he said.
(Image via shutterstock)
Have a tip we should know? [email protected]