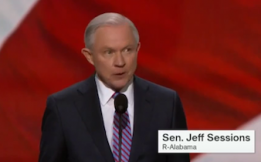 On the heels of the sit-in protest and ultimate arrest of NAACP members at the Mobile, Alabama office of U.S. Senator Jeff Sessions, he is now being served another blow. 1,330 law school faculty members hailing from 176 law schools in 49 states have joined in a petition calling for Congress to halt the nomination of Sessions as U.S. Attorney General.
Sessions, no stranger to controversy, has received substantial backlash in regards to his nomination.  Allegations of racism have followed him through his career and have been a focal point since President-Elect Donald Trump nominated him to be U.S. Attorney General. Sessions was nominated in November under intense scrutiny due to his statements such as describing organizations like the ACLU and the NAACP as "un-American" because they were "trying to force civil rights down the throats of people."  An attorney, who is black, has also said that Sessions once called him "boy."  That same lawyer further recalled how Sessions once quipped that he didn't have a problem with the KKK "until I found out they smoked pot."
Sessions has consistently denied the accusations of racism.  The Washington Post noted that in 1986 Sessions indicated "I am not the Jeff Sessions my detractors have tried to create…I am not a racist. I am not insensitive to blacks." More recently he has stated, "Racism is totally unacceptable in America. Everybody needs to be treated fairly and objectively."
The petition, which was addressed to the Senate Committee on the Judiciary, was organized by Professors Robin Walker Sterling (University of Denver), Vida Johnson (Georgetown), J.D. King (Washington and Lee), Johanna Bond (Washington and Lee), Ty Alper (U.C. Berkeley), Alison Flaum (Northwestern), and Alison Siegler (University of Chicago).
The petition noted Sessions' harried past, including his "misguided" prosecution of civil rights activists in Alabama in 1985, and the bipartisan rejection of his nomination to be a federal judge under Ronald Reagan in 1986 due to racist remarks.  The professors also focused on Sessions' current policy views on issues including climate change, immigration, voter fraud and his "repeated opposition to legislative efforts to promote the rights of women and members of the LGBTQ community."
According to the Washington Post, the petition will also run as a full newspaper ad before the confirmation hearings, which are to be held January 10-11th.
[image via screen grab from 2016 Republican National Convention]
Have a tip we should know? [email protected]