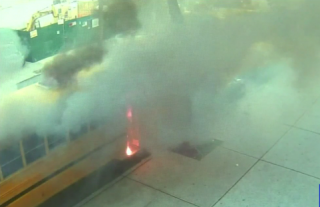 A bus fire was discovered outside a Jewish girls' school Sunday evening, and now an 11-year-old boy is facing hate crime charges, ABC7 reported. According to police, surveillance video showed the suspect and four other boys starting the blaze on the bus, which was empty and parked.
The bus was located outside the Beth Rivkah School for Girls in the Crown Heights section of Brooklyn, according to the Times of Israel. Video showed several boys boarding the bus with cardboard boxes, and then a fire igniting inside. It took an hour for firefighters to get the flames under control, ABC7 reported. Crime scene investigators found religious books on on the ground. In addition to the bus being used for a Jewish school, the owner of the bus is Jewish as well.

Police are still looking for four other kids allegedly involved. The 11-year-old was released to his parents, after being charged as a juvenile. He is facing charges of criminal mischief and arson as hate crimes.
This was the second time in just a few days that a bus from a Jewish school was targeted in Brooklyn, ABC7 said. On Thursday, a bus was hit by a brick or rock, less than a mile from where Sunday's fire took place. It is unknown if the incidents are related.
[screengrab via ABC7]
Have a tip we should know? [email protected]