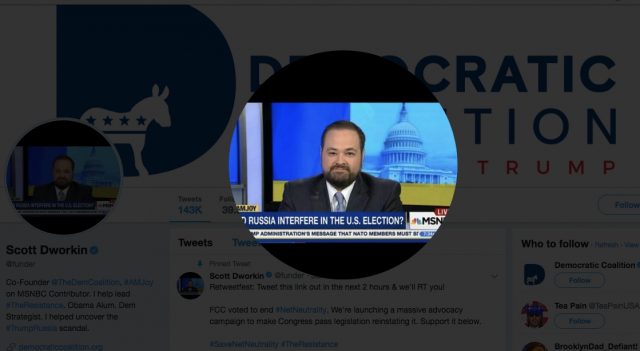 One of the self-styled leaders of the so-called "Resistance" to President Donald Trump has been accused of using his position in order to personally enrich himself by tens of thousands of dollars.
Scott Dworkin is a longtime member of the Democratic Party, and a campaign and finance fixture. He worked on President Barack Obama's inaugural committee in 2009 and was the Deputy Director for the Democratic National Convention Committee in Charlotte in 2012.
In his Twitter bio, Dworkin claims, "I help lead #TheResistance." To that end, Dworkin is also the co-founder of The Democratic Coalition Against Trump ("DCAT"), an independent-expenditure only committee–commonly referred to as a Super PAC.
The group's website offers the following description of the work DCAT purportedly does:
[DCAT] was formed in the Spring of 2016 with the main goal of making sure that Donald Trump never became President. DCAT now exists to hold the Trump White House accountable, and is directly countering Donald Trump, along with Republican elected officials and candidates who support him, through aggressive digital and traditional advertising, grassroots action, in-depth opposition research, and a nationwide rapid-response team.
According to OpenSecrets and Federal Election Commission ("FEC") data, DCAT has taken in $221,848 in individual contributions so far for the 2017-2018 election cycle. Of that amount, $210,074 has been spent.
The number one recipient of those expenditures, however, has been the Bulldog Finance Group–with the payments being made for "Consultant-Fundraising." The Bulldog Finance Group was founded–and is currently run–by Scott Dworkin.
During the 2016 election cycle, The Bulldog Finance Group was paid $52,877 by DCAT–out of $119,300 total raised. During the 2017-2018 election cycle, Dworkin paid his own business $79,500.
DCAT's curious allocation of outside payments was originally noted by left-wing media outlet The Progressive Army–a byproduct of the contentions 2016 Democratic presidential primary.
In a piece highlighting Dworkin's use of DCAT donor funds to pay his own consulting company a substantial amount of money, analyst Geoff Campbell accused Dworkin of running a "grift" and abusing the concept of Resistance to Trump in order to obtain a "personal payday."
In addition to Dworkin's alleged self-dealing, Campbell also notes that another of DCAT's highly paid vendors is one Jarad Geldner. Geldner runs FWD Communications, a Democratic Party-oriented PR firm. Geldner also sits on the board of DCAT as a senior advisor. According to OpenSecrets and FEC data, DCAT paid Geldner and his firm some $18,500 over the 2017-2018 election cycle alone.
Campbell dismissively notes DCAT's actual efforts against Trump era policy. He writes:
While we can prove that the Democratic Coalition financially benefited both Bulldog Finance Group and FWD Communications and their founders, there is little proof that any "work" the Super PAC has done helped resist Donald Trump. By using the fear created by Trump's Presidency and the possible connection between him and Russia, Scott Dworkin's Super PAC has generated over $200,000. A majority of that money then goes to Scott and other consultants, not to grassroots resistance groups or towards ways for people to actively resist Trump.
An independent analysis of DCAT's financial data by Law&Crime discovered that Nathan Lerner is another well-paid participant in the state of affairs at Dworkin's Super PAC.
Lerner currently serves as the group's executive director and is also one of DCAT's founders. According to FEC data, Lerner has been paid mainly for "Consultant-Strategy" work on top of his salary–to the tune of $30,528 during the 2017-2018 election cycle alone.
Law&Crime reached out to Dworkin, Geldner, Lerner and DCAT for comment on this story, but no response was forthcoming at the time of publication.
[image via screengrab/Twitter]
Follow Colin Kalmbacher on Twitter: @colinkalmbacher
Have a tip we should know? [email protected]