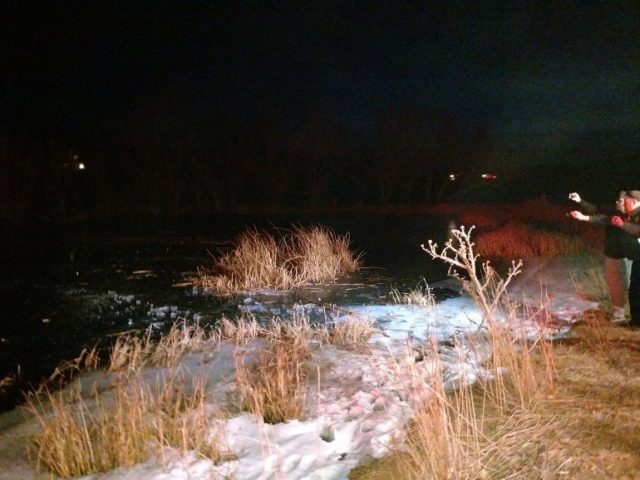 A police officer in Utah punched through the ice of a frozen pond to pull an 8-year-old boy to safety on Christmas Day.
According to Lt. David Crouse with the Washington County Sheriff's Office ("WCSO"), the boy had been chasing a dog when he fell through the ice of a small pond in the southern Utah town of New Harmony.
Another boy apparently saw the first fall through and tried–unsuccessfully–to get him out of the water. Unable to do much by himself, the second boy went for help.
Sergeant Aaron Thompson was the first to arrive on the scene, but, with an EMS team and a search-and-rescue dive team still on the way, he figured the boy didn't have that long. Thompson then "made the personal decision" to rescue the child without the use of experts or specialized equipment, according to a press release issued by the WCSO and cited by the local Fox affiliate.
Brushing aside accusations of heroism or any out-of-the-ordinary action on his part, Thompson said:
I knew what I was getting into. I knew how cold that water was going to be … Once I saw his face I just pulled his head up above the water.
Thompson's boss, Sheriff Cory Pulsipher, disagreed with his employee's take. He said, "A lot of people would probably like to think they would have dived in too, but how many actually would have? He hates having the spotlight on him, but he's a hero."
As the boy was drowning, Thompson removed his police gear and waded into the water. Then, he used his arms and fists to break through the ice in order to create a path toward the child. In all, Thompson punched through roughly 25-feet worth of ice and frigid water so that he could reach the struggling 8-year-old.
Lt. Crouse reflected on the incident. He said, "[Thompson] and another citizen were actually able to break through the ice, go into the water, and retrieve the boy out of the pond. He was taken to a nearby ambulance."
The boy was later flown out to a nearby hospital for treatment. His condition is currently unknown.
Thompsons suffered minor cuts and abrasions to his hands and arms. He was also treated for hypothermia.
[image via Washington County Sheriff's Office]
Follow Colin Kalmbacher on Twitter: @colinkalmbacher
Have a tip we should know? [email protected]