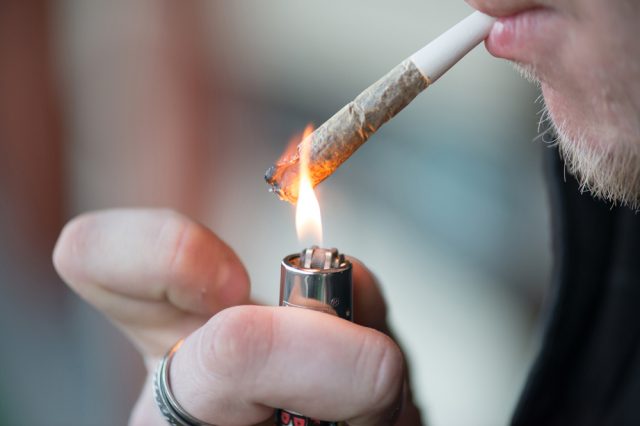 On the proverbial eve of legalized recreational marijuana in California, the California Highway Patrol busted a distribution company in Mendocino County for moving 1,875 pounds of pot by truck. Police reportedly seized the truck and the marijuana. The occupants now face possession and transportation charges.
It didn't matter to police that the occupants had paperwork in their hands that their business was either licensed or in the process of becoming licensed, according to local newspaper The Press Democrat. The details are important. The licenses were described as a county business license and a document or documents for a "medical marijuana collective." The highway patrol told them that California's state-level marijuana reform laws don't take effect until January 1, 2018, and, as such, they were on the wrong side of state law by a matter of days.
Interestingly, the California Bureau of Cannabis Control told the paper that businesses with the proper permits (for medical marijuana, at least) can operate before the law kicks into effect. It remains somewhat unclear whether the distributors were aiming for the recreational or the medical marijuana market. Medical marijuana has been legal in California since the 1996 passage of Proposition 215.
The officer who made the stop said the delivery truck's running lights were not on, and that's why he pulled it over.
According to Proposition 64, the law California voters approved and which legalizes recreational pot use:
The Adult Use of Marijuana Act creates a comprehensive regulatory structure in which every marijuana business is overseen by a specialized agency with relevant expertise. The Bureau of Marijuana Control, housed in the Department of Consumer Affairs, will oversee the whole system and ensure a smooth transition to the legal market, with licenses issued beginning in 2018. The Department of Consumer Affairs will also license and oversee marijuana retailers, distributors, and microbusinesses. The Department of Food and Agriculture will license and marijuana cultivation, ensuring it is environmentally safe. The State Department of Public Health will license and oversee manufacturing and testing, ensuring consumers receive a safe product. The State Board of Equalization will collect the special marijuana taxes, and the Controller will allocate the revenue to administer the new law and provide the funds to critical investments.
It appears the company in question was trying to operate as a distribution company. "Distributors" are among the categories of businesses which can be licensed by the state's Department of Consumer Affairs under the recreational marijuana law.
The state's regulatory portal, cannabis.ca.gov, states in bold, capital letters that no state licenses will be effective until January 1, 2018. It also seems that state licenses are only available to businesses who previously receive "local authorization" permits before going to the state.
[Image via Shutterstock.]
Have a tip we should know? [email protected]
Aaron Keller - Deputy Editor-in-Chief