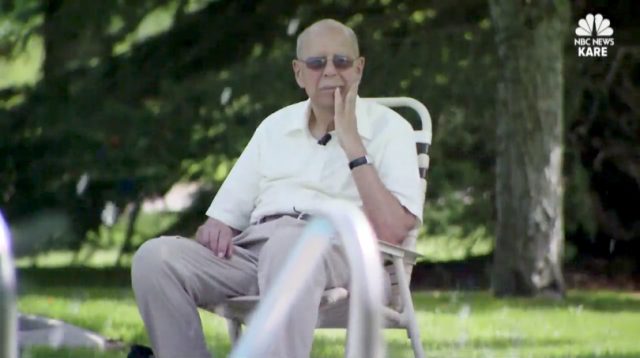 Greetings from Morris, Minnesota–where everybody's welcome at Keith Davison's glistening new swimming pool.
The 94-year-old former judge and World War II veteran recently lost his wife, Evy, to cancer after 66 years of marriage.
Her death last year left the widower nearly inconsolable for months on end. Newfound silence around their longtime home was a stark and blaring reminder of his loss. In an interview with news magazine Inside Edition, he said:
"She had a nightstand and she's got a watch on it that's still sitting there and I can't move it, I just can't. They state 'til death do you part, and that's what we intended and that's the way it was."
Building a pool for the children in his community has helped Davison to cope with his grief and loneliness.
The 32-foot-long pool opened just last month and was an immediate hit.
"I'm glad he invited us. This is just awesome," said one of the kids from the neighborhood.
Local parents are happy, too. One said: "It's amazing. It's a treasured gift."
The only rule is that kids have to be accompanied by a parent or guardian.
As laughter and the tell-tale shouts of "Marco!" and "Polo!" replace the unwanted quietude of months past, Judge Davison says the pool and the cheer it's brought to his community have given him a new lease on life.
Chuckling off splashes of water, he said, "I think when these kids are here it's a blast."
[image via screengrab; video courtesy KARE]
Follow Colin Kalmbacher on Twitter: @colinkalmbacher
Have a tip we should know? [email protected]