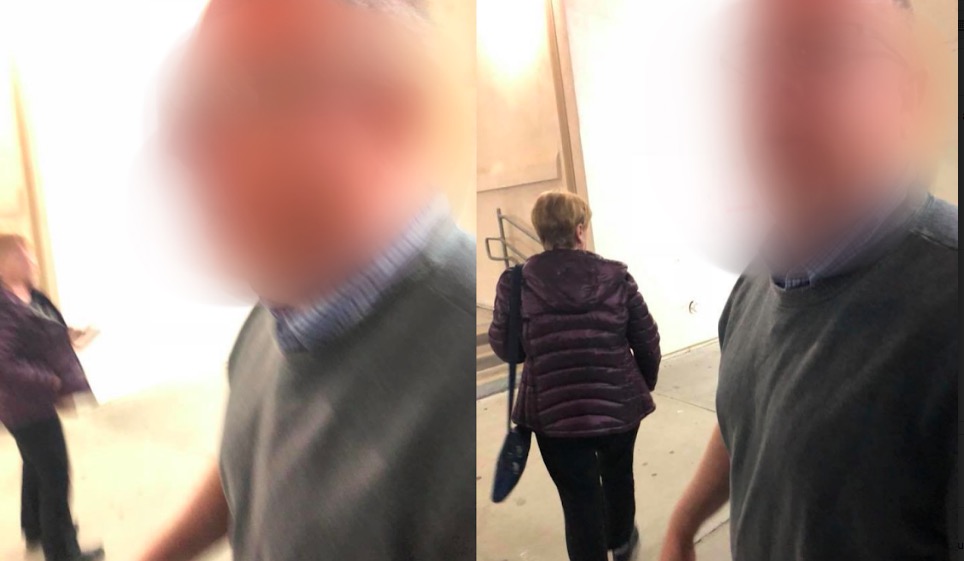 Two Muslim high school students were verbally harassed and grabbed by an official with the U.S. Department of State, according to one of those students.
Mahamed Abdulahi and his sister Muna Abdulahi were participating in a speech and debate tournament at San Dieguito High School in Encinitas, California on March 14.
Most of the tournament apparently went off without a hitch. But when Mahamed and Muna Abdulahi took the stage to deliver "speeches as a performance about systemic inequities because of race," they say things quickly took a turn for the worse. According to Mahamed Abdulahi's original Facebook post on the matter:
An older man and woman came to watch us because [their] son was competing against us. During my sister's speech they mouthed insults, audibly sighed, and laughed at stories of those killed by Dylan Roof in S.C. When it was my turn to speak they were sighing and rolling their eyes, as difficult as it was I tried to ignore it. Towards the end of my speech they were mouthing "move on" [and] "stop whining."
After the performance, both of the Abdulahis approached the older couple and asked them to apologize. The post continues:
The woman responded by saying "we don't like being lectured to." My sister said "you're entitled to your opinion but this speech was a performance not a lecture." I proceeded to ask them both for an apology when the man came very close to me, grabbed my shoulder hard and angrily said "hey…fuck you." He was very angry and his son was forced to pull him away.
The students said police and local media identified the man as an official who works for the U.S Consulate General in Mexico.
A State Department official told Law&Crime "We are aware of the reports" but declined to comment further while directing all questions to local law enforcement.
The San Diego County Sheriff's Department ("SDCSD") confirmed to Law&Crime that they were looking into the issue and released the following statement:
What I can tell you now is that the Sheriff's Department takes reports of crime, including alleged assaults and crimes possibly motivated by any kind of bias or implied bias, seriously and will investigate all such reports. Once the Sheriff's Department completes its investigation, the case may be presented to the District Attorney's office for review and the possible filing of criminal charges. This process is complex and can take time.
The alleged official in question is not being named at this time because he has yet to be charged over the incident but Abdulahi said a detective had been assigned to investigate the man on charges of battery.
Mahamed Abdulahi, however, is frustrated because he feels little progress has been made. Law&Crime reached out to Abdulahi and conducted an exclusive interview over the course of the past several days.
L&C: How did this incident make you feel as a student, researcher, speech participant and activist?
MA: "In speech and debate it's really hard to be a Black person speaking about issues of inequity. So many of those who judge you are closed off to conversations about difficult issues. This bias makes it difficult to succeed and this particular incident was a culmination of the culture and thinking existing in speech and debate, particularly in San Diego.
This incident wasn't necessarily surprising but it was very scary. This older man who was belligerent and angry grabbed me and my sister and I were concerned for our safety. My sister and I were thrown off from doing our speeches well and we now feel more than ever, speech and debate isn't a welcoming, inclusive or open environment."
L&C: Do you think this incident has anything to do with today's political climate?
MA: "I think these actions were clearly related to the political climate because the Vaillancourt's son has been identified by other students as being a Trump Supporter.
When his parents were being disrespectful he didn't stop them.
These actions are representative of the level of intolerance that's become acceptable under President Trump."
L&C: And what about the school's response?
MA: "At speech tournaments my parents sign release forms, turning over responsibilities but the school didn't even call police the night of the incident despite the fact that we reported it immediately.
The school called law enforcement for a teenage black girl when she had pepper spray and created a brutality situation but they weren't able to call police for the violation of minors.
Administration of the school didn't even reach out to my parents until [over a week after the incident.] They told my parents 'You guys should have contacted law enforcement.'
The actions, or lack thereof, were not only disappointing but they were negligent. Not calling the police the night of was a moral and institutional failure."
Law&Crime reached out to San Dieguito Union High School for comment earlier this week but no response was forthcoming at the time of publication.
[images via Mahamed Abdulahi with permission]
Follow Colin Kalmbacher on Twitter: @colinkalmbacher
Have a tip we should know? [email protected]