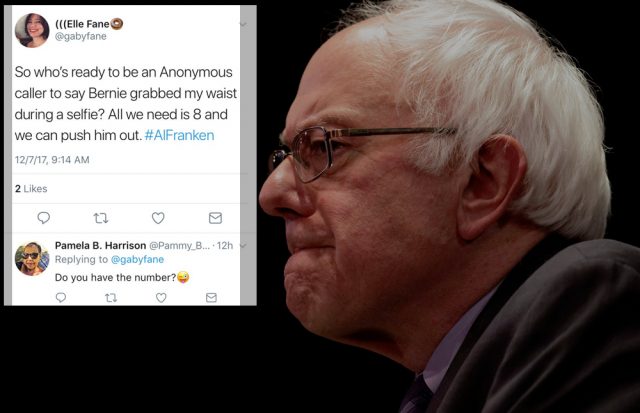 Apparent Hillary Clinton supporters on Twitter are plotting to falsely accuse Senator Bernie Sanders (I-VT) of sexual harassment in order to force his resignation.
A tweet sent at 9:14 a.m. on December 7 by Gabrielle Fane reads:
So who's ready to be an Anonymous caller to say Bernie grabbed my waist during a selfie? All we need is 8 and we can push him out. #AlFranken
Fane's Twitter handle is @gabyfane and her bio reads: "'We are the ones we have been waiting for.' – Barack Obama CA, NYC, NJ, UK, CA, PDX #StillWithHer" Notably, Fane's bio also contains a donut emoji, which is widely understood among online left-leaning communities to be a symbol for liberals and Democrats opposed to socialists and the so-called Sanders wing of the Democratic Party.
A long-time supporter of liberal Democrats, Fane penned an election-eve Facebook post on November 8, 2016 which was decidedly anti-Trump and apparently pro-Clinton.
She wrote, in an introduction to a letter from the principal at her daughter's school describing racist and anti-Semitic incidents, "A letter from my daughters school. For those who think that their is nothing to worry about with a Trump presidency. This is real and I hate that my child and other children have to deal with this in 2016. #trump #hillary #election2016."
On October 31, 2016, Fane shared a video criticizing Donald Trump's record on LGBT issues and praising Clinton's record.
Fane followed up her original tweet by writing, "I'm sorry but I don't think the things @SenFranken was accused of were the sexual assault and a few of the accusers were anonymous. I know you Bernie's like to think things have always been the same but 10ys ago things were different."
In the aftermath of Fane's Sanders-focused tweet being shared and harshly criticized by other users on Twitter , Fane protected her account–meaning her tweets are now no longer publicly accessible.
Many users took screenshots of Fane's Sanders-focused tweet, however, and tweets containing those screenshots are now being heavily shared on the microblogging site. As of this afternoon, the false accusation contretemps aimed at Sanders is on the verge of becoming a viral blemish on the #metoo movement.
Many Twitter users questioned the wisdom of a campaign to falsely accuse Senator Sanders or to potentially sully the #metoo movement with such a risky venture. Many Democrats are upset about Senator Al Franken (DFL-MN) resigning after multiple women accused Franken of sexually assaulting and groping them over the years.
Upset Democrats have registered their discontent with Franken's precipitous downfall in various ways, including: (1) suggesting Franken's accusers are rightwing plants; (2) slut-shaming the women who have come forward; and (3) fearfully reproving those who called for Franken's resignation out of concerns that he could be replaced by a Republican in the U.S. Senate.
The third response is curiously misplaced because Minnesota Governor Mark Dayton is a progressive member of the Democratic-Farmer-Labor Party (the Minnesota-specific party that works and caucuses with the Democratic Party nationally) and will almost certainly replace Franken with a member of the same party.
But the idea of weaponizing the #metoo movement against committed left-wing politicians is a new look for the Hashtag Resistance. Though some Clinton partisans have favorably responded to the idea of falsely accusing the democratic socialist Sanders in retribution for the tanking of neoliberal Franken, most replies to Fane's suggestion have been decidedly negative. One user wrote:
I'm not even a Bernie fan but the fact that you trivialize the accusations of actual sex assault victims by encouraging false accusations, and dismiss the women who accused Franken speaks volumes about where you stand and who you enable.

— Hardcase (@roflmaoism) December 8, 2017
Law&Crime reached out to Fane via Facebook and Twitter but no response was forthcoming at the time of publication.
[image via screengrab/shutterstock.com]
Follow Colin Kalmbacher on Twitter: @colinkalmbacher
Have a tip we should know? [email protected]