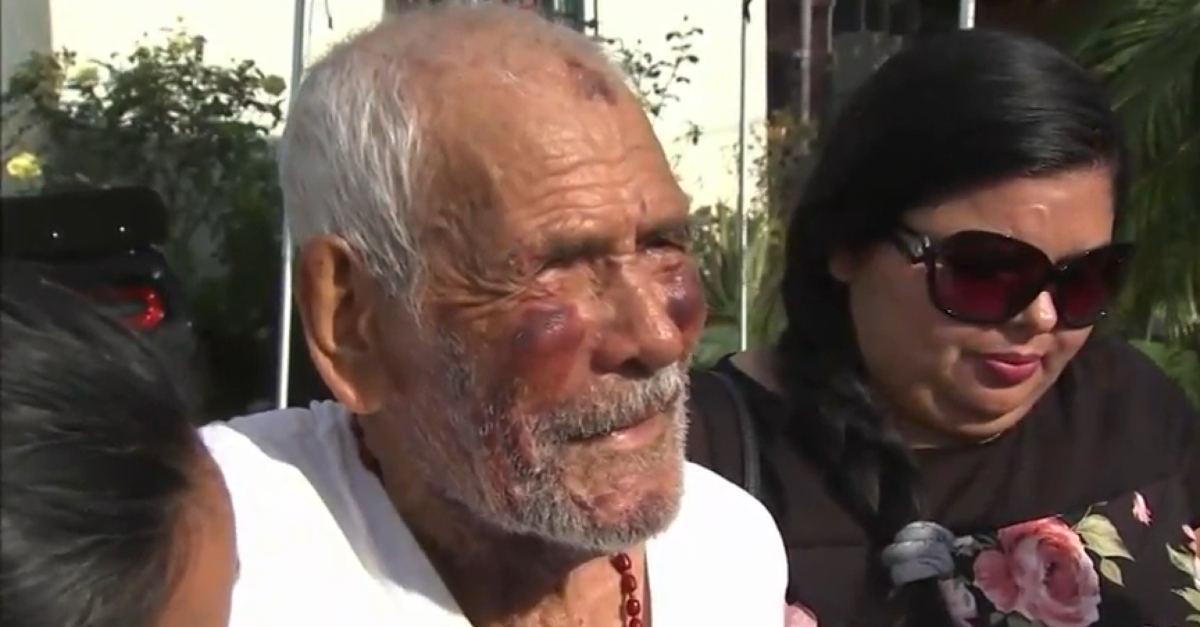 At least one person isn't cheering the 15-year sentence handed down to 30-year-old Laquisha Jones on Thursday. Victim Rodolfo Rodriguez, 92, says he wished Jones got a lighter punishment for brutally beating him with a brick. He told KCAL9 in Spanish that "everyone makes mistakes, and we have to forgive each other because God forgives us." Rodriguez suggested she should've only gotten two to three years in prison; the court thought otherwise.
Jones pleaded no contest in December to one count of elder abuse. Prosecutors said she attacked Rodriguez last July 4 without provocation, according to a news release obtained by Law&Crime. Authorities mentioned a separate 2017 conviction for making criminal threats. Rodriguez needed medical attention and Jones fled the scene.
Video showed Rodriguez, then 91, on the grass next to a sidewalk, his face bloodied.
The assault left his jaw, cheekbones, and ribs broken, his family said in a CNN report.
Laquisha Jones was sentenced to 15 yrs in prison today for an attack that seriously injured 92-year-old Rodolfo Rodriguez last summer. Jones admitted she used a brick during the attack, which authorities say was unprovoked. Hear from Mr. Rodriguez #KCAL9 10pm #CBSLA 11pm @CBSLA pic.twitter.com/Bh4qNMubTB

— Rachel Kim (@CBSLARachel) March 1, 2019
The incident caught national attention because of the graphic nature of the video, which showed the bloody aftermath of the attack. A detail from a witness only added to the outrage. That witness said told Fox 11 that Jones told Rodriguez to go back to his country (the victim is a legal permanent resident from Mexico). Rodriguez said he wasn't sure about this allegation since he didn't speak English, and wasn't sure what the defendant said.
[Screengrab via Fox 11]
Have a tip we should know? [email protected]