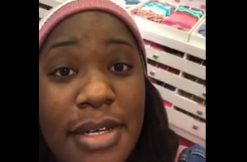 On Wednesday, a woman in Oxford, Alabama said she was kicked out of a Victoria's Secret after another black woman was caught shoplifting, and she'll never return to that location again.
"She didn't check my bag," Kimberly Houzah said about the store manager. "She didn't accuse me of stealing, but because I'm black and another black person happened to get caught stealing, we got to be affiliated."
She said a third black woman was kicked out too, and that they didn't know the person accused of shoplifting.
Oxford Police Chief Bill Partridge told AL.com that no was arrested in connection to the alleged shoplifting.
A Victoria's Secret spokeswoman told the outlet that they're looking into the incident, and are preparing a statement. We followed up with the company, and will update with any response.
[Screengrab via Facebook]
Have a tip we should know? [email protected]