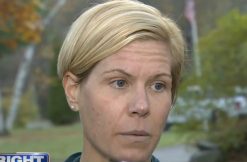 Jaci Stimson said she doesn't know who keyed her car with the words "N—-r Lover."
"I'm angry," she told WHDH in a Thursday report. "I'm disappointed. I didn't know this still existed."
It's 2016, and apparently it does. Stimson has lived in Derry, New Hampshire with her 7-year-old son for the past five years. She's white. The child is biracial.
The Derry Police Department confirmed the details with LawNewz.com. They said her car got keyed on October 21, and then on the 24th, Stimson reported that someone left a sign at her driveway. It read "N—-r go home." The harassment continued as recently as November 1, with her car getting egged. They're continuing to investigate the situation. A police spokesman said these allegations are completely out of character for the town.
What does her son make of all this?
"He's 7, so he asked me what he did wrong, and why people may not be liking him and I just—How do you answer that?" Stimson told WHDH.
She purchased surveillance cameras in the wake of all this, and she said she recorded a car slowing down as it passed her home.
"Maybe I'm naïve," she said. "I live in this world where I think everybody is good. I'm not sorry. I didn't do anything wrong. My son's beautiful: He has no reason to feel ashamed. We're not ashamed."
[Screengrab via WHDH]
–
Follow Alberto on Twitter (@Alberto Luperon)
Have a tip we should know? [email protected]