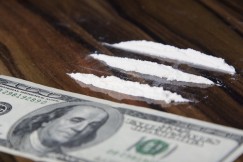 Well, this is one way to stash drugs. A Colombian woman was arrested in Germany after authorities say she carried 1 kg (2.2 lbs) of cocaine in her breasts. Yes, in her breasts.
Apparently, the big-chested woman caught the attention of customs officials who, keen to the staring on the 24-year-old's breasts, grew suspicious. After searching the woman, the officials found fresh operating scars below her breasts. The woman's complaints of severe pain, in conjunction with the suspicious scars, led authorities to the drugs.
The woman admitted to carrying the drugs, though the evidence was pretty obvious. Authorities sent the woman to a local hospital where doctors discovered 500g of plastic wrapped lumps of cocaine on each of her breasts.
"This is the first case in Germany in which drugs have been smuggled in this fashion," said customs spokesman Hans-Juergen Schmidt.
[h/t TheGuardian]
Have a tip we should know? [email protected]