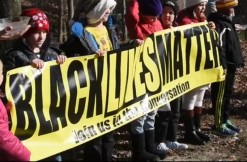 A Maryland woman has been arrested for vandalizing a "Black Lives Matter" sign.
Chari Raye McLean, 56, allegedly spray-painted over the word "Black" on a church sign in Annapolis, according to Fox Baltimore. Police discovered the reported vandalism early Thursday during a routine check, and cuffed McLean that evening without incident.
Before the arrest, she denied doing it in a Thursday interview with the Capital Gazette. She said she'd just been in the area waving an American flag around. And no joke, that's a thing she's known for. The Gazette reported on her doing just that back in December.
In a Friday report, authorities told Fox Baltimore there were "numerous thefts/destructions to the 'Black Lives Matter' signs in the area." How many? Police told the Capital Gazette that since Oct. 16, a total of 12 signs had been stolen and four damaged at St. Philip's and three other local churches. Guess where this is going.
McLean now faces two counts of destruction of property. One for the April 21 allegation at St. Philip's Episcopal Church, the other for a March 1 allegation.
McLean has already been charged for another such incident: destruction of property for taking down a Black Lives Matter sign from St. Philip's in December. That's a misdemeanor charge with a potential 60 day jail sentence, and a $500 fine.
"She advised she took the sign down because she did not believe in the 'Black Lives Matter' motto, rather supported 'Blue Lives Matter' and 'All Lives Matter' mottos instead," a police spokesperson told the Gazette in December. In the same story, she said "Black Lives Matter" incited violence against police.
–
Follow Alberto Luperon on Twitter (@Alberto Luperon)
Have a tip we should know? [email protected]