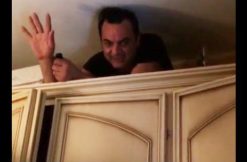 Ever see a mob boss climb from out of his secret hiding place? Now you have. There's viral video of Antonio Pelle getting apprehended by Italian authorities after a five-year manhunt.
Video from the Polizia di Stati, a national police force, shows him poking his head from out of a secret chamber hidden between his son's bedroom and a bathroom, The NY Daily News reports. It happened Wednesday.
Pelle gave himself up, though the only way to do that was to climb slowly, awkwardly out of the hiding place, and down a closet.
When he escaped from a hospital five years ago, this honcho for the Pelle-Vottari was in the middle of a 20-year prison sentence for mafia association, arms trafficking, and drug trafficking.
[screengrab via Polizia di Stati]
–
Follow Alberto Luperon on Twitter (@Alberto Luperon)
Have a tip we should know? [email protected]