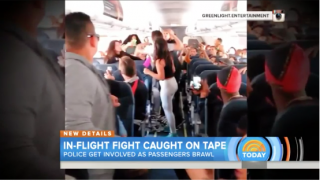 A Spirit Airlines flight from Baltimore to Los Angeles took a turn for the insanely bizarre on Wednesday as a fight broke out among five women over music.
Two women aboard the cross-country flight "appeared to be intoxicated" and "were playing loud music on a boombox speaker," according to a statement from Spirit Airlines.
Things heated up when several other passengers asked the two women to lower the volume on their boombox. Yes, they apparently had a boombox.  "What are you going to do?" the two woman shot back as they braggadociously waived the music player.
The serenity of the flight kept the parties at bay, but once the wheels hit the ground, it was on! An all-out brawl broke out in the aisle of the airliner, with uninvolved passengers skirmishing and other passengers snapchatting and taking video, realizing the moment's viral worth. Fists were flying, bodies were on the ground and, of course, hair was being pulled as passengers and one stewardess looked on in hilarity and fear.
Emerson Silva, one of the witnesses, told TODAY, "They were throwing serious punches. The ladies — they were serious."
Both airport police and the FBI were called in to investigate but no one was charged FBI spokeswoman Laura Eimiller told NBC affiliate KNBC in Los Angeles.
This might just trump the woman who stopped traffic by dancing naked atop an 18-wheeler in Texas.
Check out the story of the brawl below.
[h/t NBCNews]
[Screengrab via NBCNews]
Have a tip we should know? [email protected]