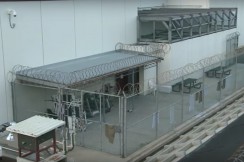 A prisoner at the Guantanamo Bay Detention Camp got his wish when he didn't want to leave. The Pentagon revealed Thursday that Mohammad Bwazir didn't want to get out of the infamous prison in Cuba when cleared to. The 35-year-old actually said no.
"He's been in Guantanamo so long that he was terrified about going to a country other than one where he had family," said his lawyer, John Chandler, according to The Miami Herald. So his client wants to go somewhere like the United Arab Emirates, Saudi Arabia, or Indonesia, where relatives live.
The county were Bwazir would've gone wasn't revealed, but Chandler said it was one "I'd go to in a heartbeat."
Bwazir was taken to the camp in 2002. It was alleged he'd committed acts of terrorism in Afghanistan. After alleged torture by US officials, he went on a hunger strike to protest. His weight plummeted to 90 pounds, and he was kept alive through force-feeding.
Two other prisoners jumped on the opportunity to bolt while Bwazir passed: Tariq al-Sawah to Bosnia, and Abd al-Aziz al-Suwaydi to Montenegro. Al-Sawah admitted to training al-Qaida operatives.
For now, Bwazir remains at Guantanamo, waiting. "He's always been very emotional," Chandler said about his client. "When he was a hunger striker, he told me, 'All I want to do is die.' He just couldn't stand the place." And now he's choosing to stay.
[h/t The Daily Mail, image via screengrab of AFP footage]
–
>> Follow Alberto Luperon on Twitter (@Alberto Luperon)
Have a tip we should know? [email protected]