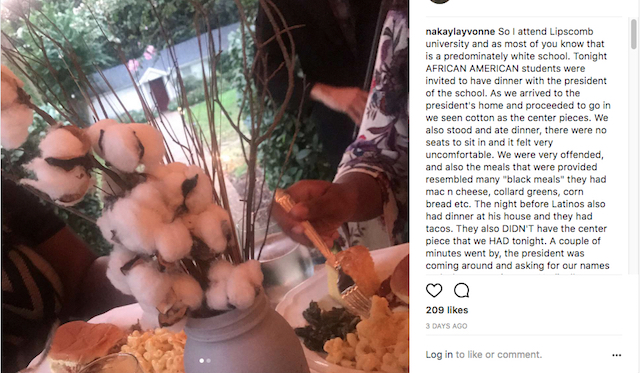 A Christian university in Nashville, Tennessee just joined the national discourse on race relations with a throwback of sorts.
Black students were treated to a dinner by Lipscomb University President Randy Lowry at Lowry's home on September 15. And those who attended found their tables decorated with cotton stalks.
One student, identified as Nakayla Yvonne posted about that dinner on Instagram. She wrote:
So I attend Lipscomb university and as most of you know that is a predominately white school. Tonight AFRICAN AMERICAN students were invited to have dinner with the president of the school. As we arrived to the president's home and proceeded to go in we seen cotton as the center pieces.
Her post continued and went on to mention that the food being served was stereotypically "black" and included macaroni and cheese, collard greens and cornbread. Also of note: the students weren't offered any chairs and had to eat standing up. The entire situation reportedly made all of the students quite uncomfortable.
As Lowry made his way around to the tables of standing students eating soul food around stalks of cotton to inquire about their majors, some of them asked him what motivated the choice of centerpiece. He said he thought it was, "fallish."
Then, according to Yvonne, students registered their discontent with Lowry's choice of plant. At this point, the host apparently bristled, saying that it wasn't "inherently bad" since everyone there was wearing cotton.
Lowry has since apologized via the school's Facebook page. His statement reads:
Several students shared with me their concern about the material used for centerpieces which contained stalks of cotton. The content of the centerpieces was offensive, and I could have handled the situation with more sensitivity. I sincerely apologize for the discomfort, anger or disappointment we caused and solicit your forgiveness.
Yvonne's post also contains at least one other interesting tidbit.
Apparently, Latin-American students were welcomed to Lowry's home the night before to share their experiences. And though fall was swiftly approaching on Thursday night as well, the cotton centerpieces weren't there–and neither was the menu served to black students. The Latin-American students were served tacos instead.
[image via screengrab]
Follow Colin Kalmbacher on Twitter: @colinkalmbacher
Have a tip we should know? [email protected]