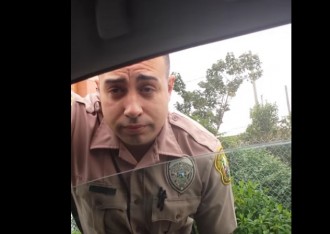 The head of Miami's police union got real personal on social media lashing out against the woman who pulled over a Miami-Dade police officer and accused him of speeding. You might recall, the video went viral after citizen driver, Claudia Castillo, turned the tables on Officer Daniel Fonticeiella, and accused him of going more than 70 miles per hour.
Apparently so upset she did this, the union rep (from a different police union by the way), Javier Ortiz, decided to dig up dirt and list Castillo's phone number on his Facebook page urging people to call and harass her.
It got even more personal when he began posting unflattering photos with captions about Castillo. One showed her holding a beer  with the caption, "Nobody is above the law except me, when I'm drinking."
Here is one of the posts (via Miami Herald):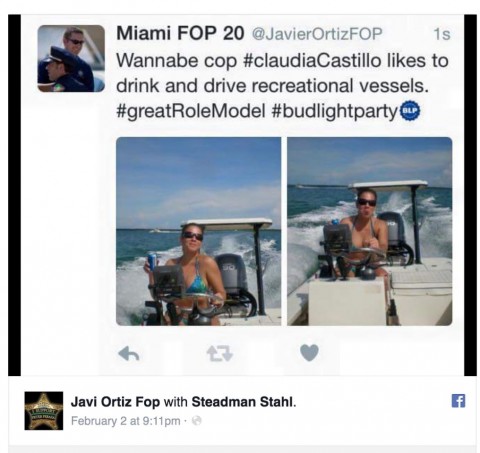 Apparently, Facebook said the union rep's conduct violated their polices, and they took the posts down. The single mom told The Miami Herald
that "she not the jerk they're painting."
"How far do you have to reach to divert the real problem we have," which she says is police violating the law. "I think he's trying to divert attention from the real thing."
By the way, the newspaper found that Castillo had been cited 16 times for driving related infractions.
"I've had my ups and downs," she said.  Ortiz is notorious for his controversial social media posts. He vocally supported the police officer who shot Michael Brown, and bashed a female Muslin Miami officer for not covering her heard during the pledge of allegiance.
Here are the original video from when Castillo pulled the cop over.
WATCH:
[h/t Miami Herald]
Have a tip we should know? [email protected]
Rachel Stockman - Editor in Chief / On Air Host