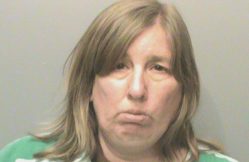 Iowa woman Terri Rote faces an election fraud charge after she allegedly voted twice for Republican presidential nominee Donald Trump.
"I wasn't planning on doing it twice," Rote said, according to a Friday report by Iowa Public Radio. "It was spur of the moment. The polls are rigged." She claimed to believe that her first ballot would be changed to a vote for Democratic candidate Hillary Clinton.
So her alleged actions were apparently motivated by a desire to help the GOP nominee.
Trump's been going on about how if he loses the election, it'll be because voter fraud was committed on behalf of Clinton.
The election is absolutely being rigged by the dishonest and distorted media pushing Crooked Hillary – but also at many polling places – SAD

— Donald J. Trump (@realDonaldTrump) October 16, 2016
Of course there is large scale voter fraud happening on and before election day. Why do Republican leaders deny what is going on? So naive!

— Donald J. Trump (@realDonaldTrump) October 17, 2016
Election fraud allegations aren't exactly new (heightened restrictions on voting tend originate from GOP politicians), but the intensity of Trump's claims have brought this talking point to a new level of visibility. Critics like election law expert Rick Hasen have said Trump's racially charged assertions are made without credible evidence, and might incite voter intimidation.
In any case, proven voter fraud is demonstrably rare. Or as PolitiFact writer Linda Qiu wrote in an October 17 report: "Put it in another way: More people are struck by lightning or attacked by sharks than are accused of voter fraud."
In Texas, there were recently reports that votes for Trump were changed to Clinton, but the Tarrant County Republican Party Chair Deborah Peoples told CBS that it was only because voters kept incorrectly turning the voting machine's wheel, and therefore changing their vote. She said this has happened to Democrats as well, with their votes getting changed to the GOP ticket.
Polk County Attorney John Sarcone told Iowa Public Radio that Rote's case is only the third time in over 25 years on the job that he's seen "some irregularity that's resulted in a criminal charge," while Polk County Auditor Jamie Fitzgerald told The Des Moines Register that this is only the first time in 12 years that he can remember having to report possible voter fraud.
Rote got out of jail Friday on $5,000 bond, and faces one count of Election Misconduct, a Class D felony in Iowa. This carries a prison sentence of up to five years.
[mugshot via Polk County]
–
Follow Alberto on Twitter (@Alberto Luperon)
Have a tip we should know? [email protected]