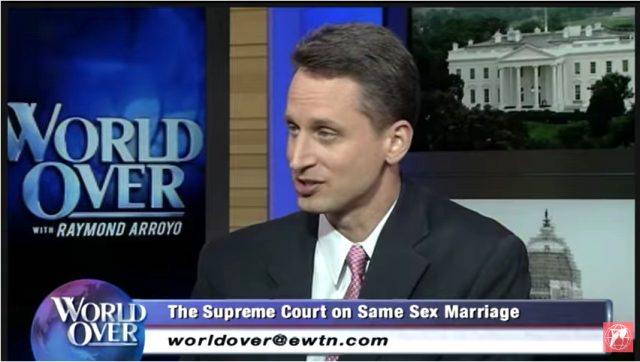 One of Donald Trump's most controversial judicial nominees once described a key same-sex marriage decision as a threat to "civic peace."
Stuart Kyle Duncan, nominated to the U.S. Court of Appeals for the Fifth Circuit, is currently undergoing confirmation hearings in front of the Senate Judiciary Committee. His nomination is being bitterly opposed by civil rights organizations who say Duncan's record on marriage equality makes him unfit to serve out a lifetime appointment as a federal judge.
In a 2015 article penned immediately before the Supreme Court legalized same-sex marriage via the Obergefell v. Hodges decision, Duncan wrote:
The plaintiffs are same-sex couples who assert that the Fourteenth Amendment removes same-sex marriage from democratic deliberation and compels all fifty states to adopt it. They are profoundly mistaken…To resolve it through federal judicial decree would demean the democratic process, marginalize the views of millions of Americans, and do incalculable damage to our national civil life…From the perspective of democratic self-government, those harms would be severe, unavoidable, and irreversible.
Couched in procedural language, Duncan's above-quoted aversion to the Supreme Court's same-sex marriage jurisprudence all-but reads like a typical assertion of small government principles.
Later, Duncan put any lingering doubts to rest about his position on same-sex marriage by explicitly slamming Obergefell. In an article titled "Obergefell Fallout" as part of a textbook on same-sex marriage, Duncan wrote: "I find Obergefell to be an abject failure. In that same article, he claimed, "the decision imperils civic peace."
In an interview from July 2015, Duncan again singled out Obergefell, claiming the landmark decision "raises a question about the legitimacy of the Court."
The Leadership Conference on Civil and Hum­­­­an Rights issued a form letter urging supporters to forward it to senators voting on Duncan's confirmation. It reads, in part, "Mr. Duncan has been at the center of the right-wing movement to diminish the civil and constitutional rights of the LGBT community."
That letter also notes that Duncan has represented multiple clients who have attacked pro-gay legislation and same-sex marriage, as well as at least two clients who have opposed transgender rights. Notably:
[Duncan] represented Virginia's Gloucester County School Board in arguing that transgender high school student Gavin Grimm should not be permitted to use the boys' bathroom…Mr. Duncan was also involved in another major transgender case – he served as lead trial and appellate counsel for the North Carolina General Assembly in its defense of HB2, the discriminatory state law passed last year that prohibited transgender individuals from using the bathroom of their choice at state institutions.
Duncan is expected to be easily confirmed by the GOP-held Senate.
[image via screengrab]
Follow Colin Kalmbacher on Twitter: @colinkalmbacher
Have a tip we should know? [email protected]