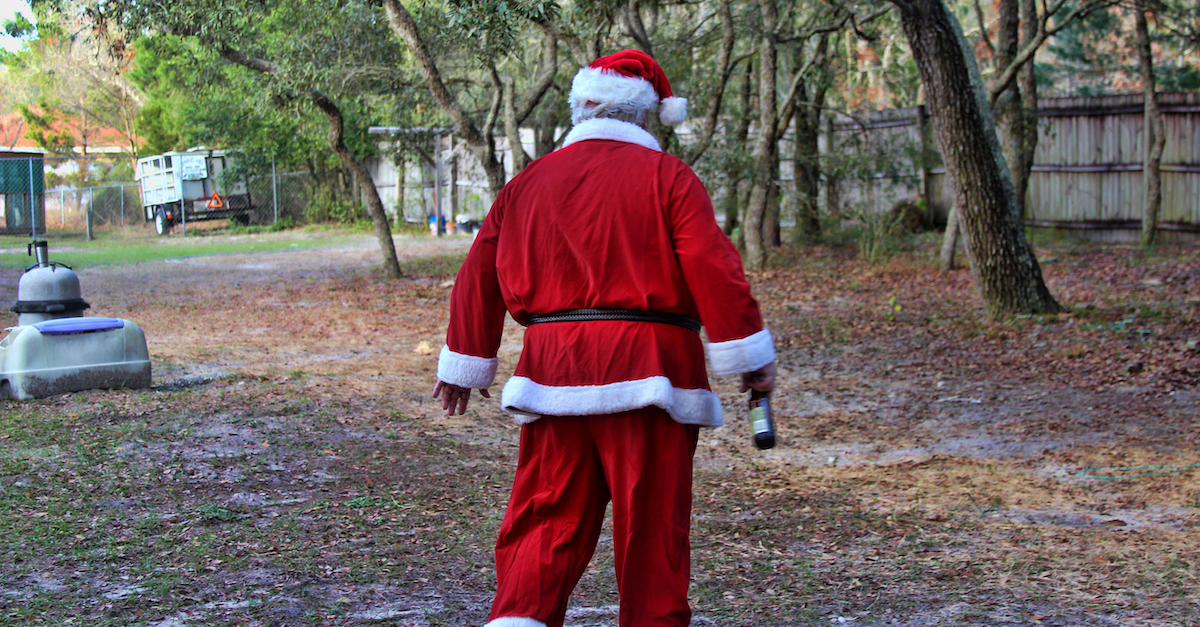 It is often said that truth is stranger than fiction and, yes, the Grinch has absolutely nothing on the most bizarre Christmas-related crimes committed in recent memory. Domestic violence over unwanted gifts, ceramic squirrel stabbings, Christmas light theft and crack pipe Santa Clauses only scratch the surface.
He wanted a remote control airplane, she gave him a Nintendo Wii. It didn't go well.
Let's go back to Christmas in 2009, when a Portsmouth, New Hampshire couple had, in their own words, "a bad Christmas."
Randi Young gave Heath Blom a Nintendo Wii for Christmas. He wanted a remote control airplane instead. His girlfriend was not pleased with his response and got up to leave, but Blom "grabbed her by the hair" as she went. Young wasn't having it. She turned around and slugged him.
"We just had a bad Christmas," Young said. That's putting it lightly.
Both of them ended up bruised and charged with misdemeanor assault. The judge was not pleased and actually ordered Young to get a job within 21 days. The judge also ordered Young to provide proof that she was sending out applications.
Intruder decorates home for Christmas 
It was a pretty unnerving event in 2011 when a boy, then 11 years old, spotted a 44-year-old burglar stranger in his Vandalia, Ohio home. Terry Trent, described high on bath salts, had broken into the home, but fortunately he didn't mean any harm.
What he actually did was put up Christmas decorations and lounge around. He lit candles, hung a wreath on a garage door, then kicked back and watched some TV with the volume turned up loud.
No one disclosed what he was watching, but we're just going to hazard a guess that it was Christmas-themed.
The 11-year-old boy saw what Trent was dong around the house and called his mom, who was actually next door at the time at a neighbor's. Trent was described as "polite" and said to the child "I'm sorry. I didn't mean to scare you. I'll get my things and go."
Mall Santa allegedly groped an 18-year-old elf
Massachusetts mall Santa Claus Herbert Jones was banned in 2013 after he allegedly groped an 18-year-old woman dressed as an elf. The two of them were working at a photo booth together when Jones allegedly "pinched her buttocks" and "made suggestive comments."
Jones pleaded not guilty to indecent assault and battery and was told not to come back to the Hanover Mall. He was also ordered not to dress up as Santa. But Jones said this was all a big misunderstanding. While the woman recalled him saying "I wish you were a few years older and I was younger" and groping her rear-end, Jones said he never did anything of the sort and that he "would have never done something like that."
"I did not touch that girl," he said, saying that while he was seated on his Santa throne the elf lady walked by him and brushed up against his hand. Jones claimed that he pulled away to avoid touching her. He also said that his remarks about being younger were not sexual. He claimed that he wished he was young again so he could do life differently.
The elf apparently quit her job after this incident.
She stabbed her man with a ceramic squirrel 
Also in 2013, a 44-year-old North Charleston, South Carolina woman was not about to let the holidays pass without stocking up on brewskis. Helen Williams unleashed her wrath on her husband when he came back home without any beer.
Williams allegedly beat and stabbed her man with a ceramic squirrel because stores were closed on Christmas Eve, meaning that there would be no beer to guzzle. The victim was found on the floor covered in blood and Williams apparently explained that he "fell."
The Charleston County Sheriff's Office wanted to know why Williams was herself was covered in blood. After that, the story got a little bit more context. The man said that Williams attacked because he didn't bring home the beer. Williams was charged with domestic violence for stabbing her man in the shoulder and chest with a ceramic squirrel. 
It's not immediately clear why the squirrel was the weapon of choice.
Faked heart attack shopper
Desperate times call for desperate measures, so if you need to get some Christmas shopping done, just bring a friend along, have them fake a heart attack and walk out with the goods. Actually, don't — that strategy didn't work.
In 2014 at Walmart, in the weeks leading up to Christmas, Tarus Scott and Gerard Dupree allegedly hatched a plan, whereby Dupree would fake a heart attack to distract security and the other would steal a motorized Barbie car and vacation house. It would have been quite a haul, as these items were worth $369, and that's four years ago.
This iteration of "I've fallen and I can't get up" fooled people at first, but Dupree casually got up, left the store slowly and met up with Scott outside. They drove off in the same car. Oh, and by the way, this was all caught on surveillance camera.  The two would later be charged with grand theft. They also had 30-plus arrests between the two of them.
Okay, this one didn't happen until just after the New Year, but c'mon, this man is legally named "Santa Claus"
Allow us to set the scene: Weeks after Christmas 2015 in Post Falls, Idaho, a man LEGALLY NAMED "Santa Claus" was busted for DUI after he was observed driving the wrong way.
The 67-year-old man, who was as bearded as you would expect, was a resident of Washington state. There was not sleigh or a reindeer in sight. Although this could have had a tragic ending, the charge against Santa Claus was reduced to misdemeanor reckless driving.
He did plead guilty and paid out $700.
Santa Claus apparently reeked of alcohol when he was contacted by police. He said he had three of four beers at a local bar, but two BAC samples came out to .130 and .119.
In other words, significant intoxication.
Put down the crack pipe, volunteer Santa
Oh, New Jersey. A 66-year-old volunteer Santa Claus named Charles Smith was arrested in 2017 on drug charges. Smith, a former NJ Transit employee and "Toys for Tots" volunteer, was allegedly found with a crack pipe (!) on his person.
The arrest occurred after Smith was pulled over for an unspecified motor vehicle violation. The crack pipe and the Santa Claus costume were allegedly out in the open and easily observed. Authorities also said they found empty bags of crack and heroin, and hypodermic needles.
NBD, just a Christmas Day brawl at Waffle House
It wouldn't be a complete Christmas Day without brawling at Waffle House, right? Supposedly that's what these pugilists felt back in 2017. Things went off the rails at Fayetteville, North Carolina grub spot early Christmas morning — around 12:35 a.m. to be exact.
Several people were involved in a brawl that absolutely trashed this Waffle House. As you can see, some of the people trying to break up this fight were wearing Santa hats.
It's not even clear why this happened and how it started in the first place, but when police got there they arrested Jasmine Jackson. At the time, the video went viral. The man who posted it commented that he was "just trying to eat."
Jackson was charged with damage to real property, assault and battery, and simple misdemeanor possession of marijuana.
Man arrested after telling kids Santa Claus isn't real
Just a couple of weeks ago in 2018, a 31-year-old man in Cleburne, Texas showed up outside of church and told children Santa Claus wasn't real. Ebenezer Scrooge, err, sorry, Aaron Urbanski, was arrested for trespassing. Urbanski was one of three people protesting outside of a "breakfast with Santa event."
Seriously.
Unlike the others, Urbanski didn't want to leave. Police said, okay, you are under arrest for criminal trespassing. The mayor couldn't resist scolding this man for this incident.
"Don't Mess With Santa!" Cleburne Mayor Scott Cain said. "Guess they wanted coal in their stockings to go with a court appearance."
Person steals holiday lights
Again, just weeks ago, someone in La Quinta, California did the unthinkable.  A person dressed in all black was caught on camera showing up at someone's doorstep and stealing Christmas lights before driving away.
Chris Miller was the resident affected and he posted a video on Facebook to warn other people that this malcontent was on the loose. After the video was posted, local news contacted Miller and he said what we're all thinking.
"They're Christmas decorations. What kind of person would do that?" he said.
All of that for $30 worth of Christmas decorations. This thief will, without question, be getting coal for Christmas.
[Image via Flickr Creative Commons/Richard Elzey]
Have a tip we should know? [email protected]