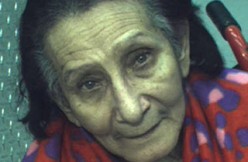 Think of the term "drug lord," and you come up with gnarly looking dudes. Maybe they shave their heads, get scary tattoos, or wear sharp suits. You think of characters like Tony Montana from Scarface, or Walter White from Breaking Bad. But you do not, absolutely do not, think of a 74-year-old woman stuck in a wheelchair.
Ruth Perez-Lopez sold heroin out of a fortified residence buffed with a security system, according to authorities who announced her arrest on Wednesday. In fact, she was allegedly the top dealer for a drug ring operating out of Florida. The drug operation made $250,000 to $300,000, reaching hundreds of users a day, authorities told the Orlando Sentinel.
Her Tuesday arrest marks the end of a yearlong investigation by state and federal authorities called "Deals on Wheels"…as we side-step that terrible name, we also note Perez-Lopez apparently shared her Orlando, Florida home with two convicted felons, who've also been taken into custody.
Perez-Lopez is charged with heroin trafficking and conspiracy, as of Feb. 11, held in Orange County jail on $650,000.
[h/t The Smoking Gun]
[image of Perez-Lopez via Drug Enforcement Administration]
–
>> Follow Alberto Luperon on Twitter (@Alberto Luperon)
Have a tip we should know? [email protected]